The Victorian Dance Festival is so close we can already hear the music and feel the racing pulse of the hundreds of dancers who will participate in this high-energy event! Set for this weekend, April 15-17, in Warrnambool, dancers and teachers alike can expect to leave more inspired, encouraged, connected and motivated than ever before.

So what is the Victorian Dance Festival? VDF is a regional dance festival whose mission is to "provide access to the highest quality of choreographers and instructors for Victorian dancers". The annual event seeks to "encourage movement, artistic expression and creativity in Victorian youth".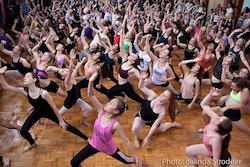 Founder and Director Kate Meade says, "2016 is a real celebration as we head into our fourth event. It's been incredibly humbling with all the support from dance industry-based businesses, schools, companies and the Warrnambool City Council. It's the overwhelming support that drives us to continue to provide the highest quality event possible."
When asked why dancers should road trip to Warrnambool for VDF, Artistic Director Paul Malek, previously a choreographer on So You Think You Can Dance Australia, explains, "Inspiration fuels motivation, and motivation in our world is golden. Everyone who attends finds not one inspiration but an overflowing amount of incredible experiences they will take with them forever and inspire them not to be just better dancers but to become the best version of themself possible – in all aspects of their life."
Meade says last year's event was "an unbelievable experience from the second it began to weeks after. The energy and buzz continued to be felt for what felt like years." And this year's festival is only going to be even bigger and better!
VDF 2016 includes over 20 hours of "mind-blowing" dance intensives, a Teacher Seminar day dedicated to the professional development of dance instructors, performances of the award-winning Yours Truly, plus special events like a Welcome Function (perfect for networking) and the Gala Showcase finale.
Dancers and teachers alike will also enjoy gleaning wisdom from the stunning Kathryn McCormick as she teaches classes in Australia for the first time. She's known for competing on So You Think You Can Dance, returning as a frequent SYTYCD All-Star, starring in films like Step Up Revolution and the movie remake of Fame.
In addition, Meade says she always looks forward to the new personal connections that are made through the festival. "The Victorian Dance Festival is all inclusive," she shares. "Dancers from all over Australia come together, and often they don't know anyone. One festival attendee said last year, 'I walked in a stranger, I walked out a friend'. It's a real family. It's like Christmas! Our team is looking forward to the celebration."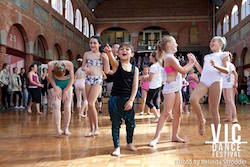 For those already registered for the event and who are preparing now, here are Meade's top five tips for VDF 2016: "Drink lots of water; eat lots of healthy snacks; be courageous and try something new; make new friends; and share your experiences on Instagram under the hashtag #VDF2017."
In conclusion, Malek says, "The Victorian Dance Festival is so much more than just a festival. The environment that is created by the VDF team across the entire weekend is an all-inclusive celebration of the wonderful world of dance, providing a non-competitive environment suited for all ages, from little ones through to grandparents to experience. There is so much to see, participate in and enjoy, and the energy created by the wonderful participants is something to marvel at and to inspire all who attend."
For further information, visit www.victoriandancefestival.com.
Dance Informa is the proud Media Partner of Victorian Dance Festival.
All photos by Belinda Strodder.