Princess Theatre, Melbourne
October 2010
By Rain Francis.
Let me just quickly have my soapbox two cents: I am not a fan of a remake. Remakes have a sour history of taking something innovative or kooky, diluting the wacky bits, sanding off the pointy bits, and serving up something resembling an under-brewed cup of tea with loads of skinny milk – bland. I know there are exceptions to this but, well, if you think of Planet of the Apes, or pretty much every single released by Atomic Kitten, you'll understand what I mean.
Hairspray: The Musical was adapted from the original John Waters film of 1988, and was then adapted into a movie musical in 2007. This is the version which is mostly responsible for the current demand for the show. Basing a stage show on a film is one thing, which is fine in essence, but most of me still hasn't forgiven whoever is responsible for remaking the movie, and messing with a cult classic. The stage show feels more closely related to the remake, in which the combination of blithe trashiness and dark satire, that is trademark Waters, has been, predictably, whitewashed to 'Disney-esque' tack.
OK, now that I have that out of the way, I shall concentrate on the stage show as an independent entity. For the sake of this commentary, we'll pretend that it isn't related to the John Waters film because when it comes down to it, I do love the cheesiness of a good musical, and David Atkin's new Australian Hairspray definitely is that.
It seems we have entered the future of the theatre going experience, one where the humble backdrop has been replaced by moving, LCD screens. This is great in theory except that in this particular case,  the screens are so colourful and the graphics so quick moving, that at times it is actually disorientating. Since the costumes are so beautiful and so true to the era, it would have been more ideal to have them supported by less stylised graphics of early 60s' decor, rather than garish, neon cartoons. The rest of the set is impressive with the floor comprised of a collection of crescent shaped platforms which are raised and lowered to various levels to create different settings.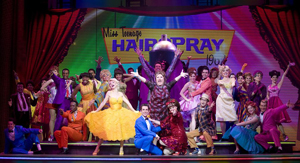 Jason Coleman's choreography is quick and clever and, along with the costumes, seems to be the main component still faithful to the original style. 
Besides a few glitches in accent, the cast is excellent. Relative newcomer Jaz Flowers does a fine job as 'Tracy Turnblad', and Marney McQueen is hilariously uptight and nasty as the semi-demonic 'Velma von Tussell'.
Esther Hannaford as the loveable dork 'Penny Pingleton' really makes the role her own, rather than trying to emulate Amanda Bynes' movie version. Hannaford's comic timing is impeccable and her pigeon-toed 'Napoleon Dynamite-style' dance moves made her an audience favourite. It was disappointing in the finale to see her ditch the spectacles and suddenly become a coordinated dancer, conforming to her identikit peers. Wasn't that one of the messages of the show, to 'be yourself'? I was as disappointed with 'Penny' as I was with 'Sandy' for sexing it up at the end of Grease.
The genuinely endearing moments happened between 'Wilbur' and 'Edna Turnblad', played, respectively, by Grant Piro and Trevor Ashley. Their duet You're Timeless to Me was absolutely the high point of the show and enough to melt even the most cynical of hearts.
Overall I enjoyed this show, and going by the general buzz in the foyer, most punters would probably agree. If you too are a fan of John Waters and trash/transgressive cinema, just remember to look at it for what it is, an adaption on Water's material.
Photos: David Wyatt