The day-to-day throughout COVID-19 can be challenging. Being isolated and thrown many uncertainties about the future — whilst simultaneously having to manage classes online and overall finances — can leave one time-poor and slightly uncreative. But there is a silver lining. Shelley Moore, founder and director of DanceMoore Choreography, is passionate about empowering dancers and dance teachers, and has developed DanceMoore Choreography to satisfy creativity underpinned by education, and is accessible online.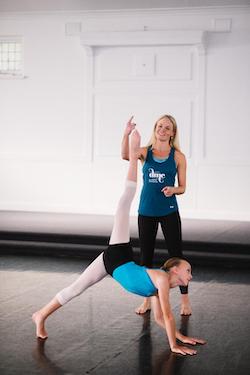 As a renowned choreographer and dance educator, Moore was already ahead of the curve, bringing fresh contemporary choreography, masterclasses and packages straight to students, studios and teachers in person and online. Holding a Bachelor of Dance/Bachelor of Education degree from UNSW, combined with diverse performance and choreographic experience, her experience spans over 15 years. This includes working with Melbourne-based company Chunky Move, prominent independent Australian choreographers such as Narelle Benjamin, numerous TV commercials and more.
Her clients include Sydney Dance Company (lyrical dance teacher), Australian Girls Choir (state choreographer and international tour choreographer), Raw Energy Dance Education, the Royal Academy of Dance, and many NSW primary and secondary schools. Moore is also an invited adjudicator for several major eisteddfods and a guest teacher at various dance studios, organisations and international workshop series. In addition to this, Moore delivers dance to regional and remote areas of Australia with the Girls from Oz program, working specifically with young indigenous women and using the performing arts to connect, engage and empower.
Sydney-based, but accessible worldwide, DanceMoore Choreography offers a variety of services, and its mission is to connect with dancers and teachers worldwide with creative, innovative choreography that challenges and inspires; and to provide empowerment and supportive learning and professional development opportunities for dance educators, via the Studio Suite program and Masterclass Series.
Here, Dance Informa talks to Moore about her DanceMoore Choreography Suite, Masterclasses and Packages, and how these can help you through COVID-19 and beyond.
Shelley, what is the biggest impact you've seen on dancers, studios and teachers during COVID-19?
"Initially, I think it went from fear (and our lack of control over the situation), to grief (of losing our normal structure and routine), and now we are starting to embrace these new ways of learning, creating, sharing and connecting. From what I've personally experienced and hear from students and fellow teachers, we are missing the emotional connection within the dance community, even though we are all remaining physical. This sense of connection and community can be somewhat achieved in our now virtual, online world, but we are not yet able to comprehend the impact of this loss of face-to-face teaching. In addition, for me personally, one of the biggest struggles has been not being able to work 'in the moment' and experiment with my dancers, as I now have to pre-plan. Having said that, teaching via Zoom or pre-recording class content does encourage me to be very articulate with my wording and forces me to demonstrate everything 100 percent, which is a fitness bonus for sure! For young dancers, it will certainly be a big test without having teachers and peers present."
How does DanceMoore Choreography assist in the current landscape?
"Online dance is literally everywhere at the moment! And from what I can see, there is a lot of free content, too, most of which doesn't have any sequencing or linking to a class structure (with overarching goals, sequencing of one exercise to the next or a basis in actual pure contemporary dance). I understand and appreciate that dance teachers are gathering any and all resources available, but for me, this isn't necessarily the most effective long-term approach for the student or the teacher.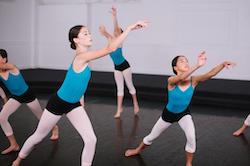 The DanceMoore Choreography Studio Suite was released in late 2018, and has been purchased by dance teachers all over Australia and also in Europe, the UK, the USA, New Zealand and parts of Asia. I receive consistent positive feedback that the program caters for a wide range of abilities, that the tutorials are extremely clear and that they really love how the focus is on the 'why' rather than the classic 'what'. DanceMoore Choreography had experience with online teaching well before this crisis hit us, and it's this knowledge that's going to support teachers, not a quickly choreographed and filmed combo that acts as a 'bandaid solution' to a very serious and long-term issue."
Tell us more about DanceMoore Choreography Studio Suite.
"I dreamt up the Studio Suite many years ago when I used to teach a lot of workshops in regional and remote parts of Australia. I loved sharing my work and would often be asked by teachers (who would watch the classes) if they could film the content and teach it in their studio. It made me think about how to provide this form of sharing with teachers all around Australia who don't have the same access that city teachers do. I also have many friends who are dance teachers (in both studios and educational schools) who often told me how little time they had to create their own content or train up a new teacher in contemporary.
So, I started to construct what would become the DanceMoore Choreography Studio Suite Contemporary Dance Program. I contacted a production company, and we shot all the content with very talented dancers, keeping both studio teachers and educational teachers in mind. This aligned with the NSW and now Australian curriculum. The Studio Suite has exercises for beginner, intermediate and advanced levels — warm-up, floor, centre and travel combos, a short routine, and creative tasks with a special section on how to manipulate set choreography. Unlike a syllabus, the content can be tailored to the teachers and students. At the heart of the Studio Suite is supporting teachers and providing high quality, educationally-informed content that has a long-term impact for their own professional development and also for the benefit of their dancer's experience and training."
What is involved in the Masterclass Series?
"These can also be thought of as a professional development opportunity, for the dancers or for the teachers. For the dancers, it can be a one-off workshop learning my choreography and unique movement style, that doesn't need to have a performance-based outcome. For the teachers, this can be anything from me teaching them in person how to deliver the Studio Suite Program (in addition to the tutorials that accompany the program) to me giving feedback on their own choreography (because the only feedback we ever really receive is from competition reports!) and guiding them on their creative journey. I have also held masterclasses for groups of experienced dance teachers, but who are new to contemporary, giving them a solid platform to understand the technique and foundations of the style, aside from what is accessed via social media."
How do the tailored packages work?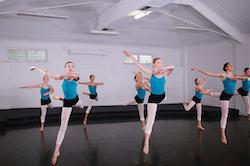 "These are for individual teachers, students, dance studios or educational schools to have access to my choreography and teaching style and make it suit their specific requirements. Previous bookings have been anything from me visiting the school or studio to choreograph competition routines (intensively over one to two days), choreograph solo routines or provide movement ideas for events. Not long ago, I was in Cairns, where I created and taught four group routines over five days at two different schools. I absolutely love the challenge of creating on the dancers, in the moment, especially without knowing their strengths or weaknesses. Seeing them embrace new choreography and being so open to the process is a big passion for me.
In addition to this, thanks to my dance education qualification, I'm in tune with where dance sits in a more educational setting and have been booked to choreograph and mark internal HSC dance assessments and mentor new secondary school dance teachers (or PE teachers who have been given the dance class for the year!)."
What do you hope to see on the other side of COVID-19 for yourself, dancers and studios at large?
"That we find ways to maintain our newfound skills and knowledge of how to share dance remotely, once we return to face-to-face classes. We are all learning so many critical skills at the moment, and it would be such a wasted learning experience to just return to the 'normal' way of delivering classes and inspiring our students. There is a positive in every single situation, and even though this has been particularly challenging, I'm a firm believer that it can only make us more adaptable, stronger, smarter and significantly more creative in our approach."
For more information on DanceMoore Choreography, visit dancemoore.com.au.
By Renata Ogayar of Dance Informa Australia.