"Manual ticketing is such a time consuming and political process."
"I used to spent vast amounts of time ticketing that I would rather have spent on performance preparation."
"Hour after hour was spent selling tickets to parents who had to queue for hours to get good seats."
Sound familiar? There are many reasons why more than 100 dance studios across Australia use TryBooking to ticket their performances and workshops. Saving time, easing their workload and making parents happy are just three important reasons.
In a few minutes you can have your mid-year and end of year performances setup and ready to sell.
"Our first event selling tickets through TryBooking was incredible to watch. The 900 seats sold out in 45 minutes!" related Kevin Coyne from Michelle Slater Performing Arts Studio.
"We sold as many tickets in 3 minutes as we used to sell in 5 hours of manual sales! Parents love the convenience and the secure credit card payment option," concurred Bec Kay from Dance Theatre Network.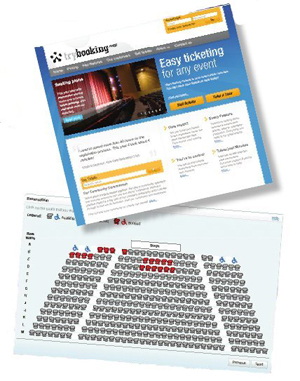 TryBooking offers the most affordable, flexible, easy to use online ticketing solution available. Your patrons pay just 30¢ per ticket for the convenience of buying and booking their seats online. You only pay nominal bank transaction fees.  So truly, everyone can afford TryBooking.
"We knew we needed to do ticketing differently, but we had no online experience." Dancehouse also didn't want to be committed by contracts, or minimums or to make a large financial outlay on box office software. David Tyndall, Creative Director, Dancehouse explained, "Soon we even created a seating plan so people can view the theatre's seating online."
You can create a seating chart for any venue so your patrons can simply click the seat and book their ticket. Whether general admission, reserved seating, performances that run over multiple days/times or even venues – it's all possible and easy with TryBooking.
Not an IT whizz? Doesn't matter!
Simple wizards guide you through the entire process so you don't need any training or special IT skills. Everything you need is on www.trybooking.com.
A recommendation from dance company, Strut, brought The Buzz Dance Theatre to TryBooking in 2010. Mary Wolfla, Education Officer at Buzz Dance Theatre extolled, "we switched to TryBooking for ease of use. It is an affordable ticketing solution, with great customer service and excellent options for generating reports. Really, it is an all-in-one service."
Patrons are thrilled at the ease of being able to visit the dance company's website and instantly purchase tickets. "We simply embedded TryBooking to our website so now when people are on our site looking at a workshop or performance all they need to do is click a link that says Book Here. Our last performance had a total attendance of 200+ and nearly all the tickets were sold online via TryBooking. This was a huge increase in our online ticket sales."
Buzz Dance Theatre, like many dance and sporting organisations, also now use TryBooking to accept online registrations for workshops and auditions. You can create registration forms that ask for exactly the information you need to collect. In addition to saving time managing paperwork, there is no data entry or searching for information. Almost 20 online reports provide instant access to all your data. And best of all, the banking is already done for you!
TryBooking has the friendliest customer service team in the industry. If you would like any information please call them today on (03) 9012 3460 and visit www.trybooking.com for  information about getting started.
TryBooking will donate back all booking fees for your next performance, workshop or other event you would like to trial with TryBooking's online ticketing service!*


Click on the logo to register for the draw.

*bank fees excl
Visit these links to see how dance schools and companies are using TryBooking:
Strut Dance – Tongues of Stone 
2011 Australian Dance Festival 
Balmoral Balletto Concert
Dancehouse"Fantastic! I will never go back to doing our own tickets. I am recommending TryBooking to everyone I know."
Mathis School of Dancing
"After 42 years of managing ticket sales manually, I have finally been rewarded with TryBooking. Parents are happy selecting their own tickets and also have the opportunity to purchase the DVD was a bonus".
Inara Svalbe O.B.E, Centenary Dance Academy
"My initial concern was it was going to be a hassle to set up, but it was extremely simple and user friendly".
Murray Holmes, Donna Jeans Danceforce
Even if you're a first time user, TryBooking is still easy to do. When I needed it, the support was excellent and very responsive."
Fun4Kids Festival
"I feel like I can just call for help and we weren't just forgotten or taken for granted once we came on board."
La Mama Theatre
NSW Permit Number : LTPM/10/00971CLASS: Type B