Sydney Opera House, Sydney.
9 January 2021.
There was a buzz and excitement as well as quite a few bedazzled masks, as audiences returned to a COVID-safe Sydney Opera House for Opera Australia (OA)'s 2021 season. It has been a long 10 months since the start of the pandemic which resulted in OA sadly being forced to cancel its 2020 program. The company has made a much-anticipated triumphant return to the Joan Sutherland Theatre, to delight audiences with a witty new adaptation by Justin Fleming of Frank Lehár's flirtatious, fun and charming operetta, The Merry Widow.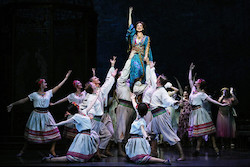 Starting the season with this lively operetta that has no shortage of drama, comedy and romance is just the escape that theatre loving audiences need. Hanna Glawari (Julie Lea Goodwin) is a rich young widow from the Balkan state of Pontevedro. Arriving in Paris, she is faced with many suitors vying for her attention, but with her state facing bankruptcy, its best hope is for Hanna to marry a Pontevedrian rather than a Parisian. It is up to Pontevedrian ambassador Baron Zeta (David Whitney) to ensure she marries Count Danilo (Alexander Lewis); however, the ambassador is unaware of their relationship history. Meanwhile, Baron Zeta's wife, Valencienne (Stacey Alleaume), is dangerously flirty with Camille de Rossillon (Virgilio Marino), who clearly expresses his love for her.  
This production performed in English reunites wonderful principal soprano Goodwin and superb tenor Lewis who played star crossed lovers in OA's production of West Side Story. Goodwin is sassy, confident yet heart-felt as Hanna, while Lewis is nonchalant as the womanising bachelor who is too afraid to express his real emotions. Both Goodwin and Lewis' talents go beyond their flawless operatic voices. Highly respected Director and Choreographer Graeme Murphy brings to the forefront their formidable dancing skills. Just about every act featured a different style of dance, from a waltz to folk-dance and even cabaret. It was, however, the waltz where Lewis and Goodwin's chemistry shined as he lifts, dips and twirls her in his arms. 
Performing alongside the opera cast are 12 dancers, beautifully choreographed to bring to life each scene. They helped support the flow of the storyline, and at one point, during Goodwin's Vilja aria, three of the male dancers with unbelievable strength lifted the small circle platform that Goodwin so carefully sat on while not missing a beat of her aria. They carried her to centre stage in a breathtaking moment and safely lowered her back to the stage while she flawlessly completed the incredible aria.  
The dancers not only demonstrated their strength and agility but also their playful side with the female dancers embracing the Parisian can-can with Goodwin in Act Three. The male dancers also had fun balancing wine glasses in a quirky scene as dancing waiters. While the dancers at times took centre stage, Murphy also did a wonderful job bringing movement to the chorus of opera singers, keeping their choreographed hand and feet movements simple yet effective.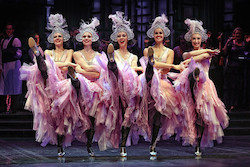 The impact of the dramatic and lavish art deco gold lattice sets in the Pontevedrian embassy, the glitzy roaring '20s dresses, the Monet-inspired night garden and summer house, and the elaborate folk-costumes bring together the imaginative vision of set designer Michael Scott-Mitchell and costumer designer Jennifer Irwin. Together, they have successfully created the luxurious and contemporary glamour of a 1920s French Art Deco Embassy party, the traditions of a Pontevedrian celebration and the sleek and fun Maxim's Nightclub.  
The musical scores by composer Frank Lehár beautifully performed by the Opera Australia Orchestra and lead by OA conductor Brian Castles-Onion is a highlight of this production. Hearing the bright, sparkling and playful overture set a wonderful tone for the story to unfold.
With the charm of a romantic comedy, expressive music, exceptional vocals and beautiful dancing, this brilliant OA production of The Merry Widow will appeal not only to traditional opera lovers but also to musical, dance and theatre loving audiences alike.  
The Merry Widow is now showing at the Sydney Opera House until 16 January. For more information, visit opera.org.au/productions/the-merry-widow.
By Nicole Saleh of Dance Informa.