Top 10 Australian dance retailer Anything Dance has unveiled its plans for a new concept store set to open early January 2021.
It will supersede its current Croydon store, featuring a completely renovated shop front, dedicated pointe shoe fitting space and state-of-the-art retail fit out to inspire performers of all ages.
Customers can expect to find a carefully curated and unique selection of dance products that are based on a deep understanding of the Australian dance industry and their own customer feedback.
Servicing the Sydney dance community for over 15 years, Anything Dance Co-Founder Daniela Kelly-Roffe said the new store is inspired by their local dance members. "Our plans for the concept store came from my determination to think outside of the box and consider how can I do things differently to offer a better shopping experience."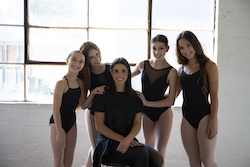 On top of providing a selection of best-sellers and essential dance, gymnastics and activewear products, the store will offer specific styles — which are determined by digital commerce data to serve customers exactly what they want when they want it. That means new dancewear will fill the store, sometimes even exclusively.
The launch of the concept store also comes with a new service — customised studio uniforms — which was highly requested from dance studios around the Sydney area.
"We have listened to what our customers are telling us, and now we are investing in innovating our retail offering," Kelly-Roffe says. "Otherwise, why would you choose to shop in store?"
Both Anything Dance Croydon and Campbelltown are currently open for Christmas 2020, while Croydon is undergoing renovations and will launch as the Anything Dance concept store from the 6th of January 2021.
All performers, family members and dance teachers are welcome and invited to the store opening in the new year.
For more information on Anything Dance, visit anythingdance.com.au.