The concept of travelling overseas and training for an extended period of time can be daunting for any dancer. Apart from leaving the familiarity of your normal routine behind, there's plenty more to consider – including applying for relevant visas, securing housing and surviving in a foreign country. New York City is a mecca for performers of all ages, and immersing yourself in its dance community can do wonders for your career, but just how easy is it to get there, and what is it like when you do?
Mindy Jackson, director of Professional Training Programs at Steps on Broadway, wants prospective students to be assured that the application and visa process for international students is very straightforward. Dancers submit a video, photographs and a letter of recommendation, along with their application form. From there, Steps will guide them through everything else.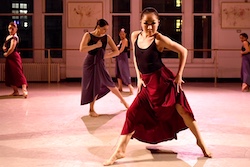 "They'll get an acceptance letter from me directly through Accepted," explains Jackson, "and then the form I20 is shipped directly to them once the first tuition instalment is paid, with instructions so they can contact their local embassy to get their M1 Visa. They will have to take the same financial forms that they send to me as part of the application to show the embassy that they have enough money to support themselves while they are in the United States. There are a few fees associated – the I901 application fee to the government, and then the fee for the actual visa, which is specific to each country. Then they will have their interview and show the documentation, and that's really it. I've had very few students come to me with any issues. Then, the students make arrangements to travel here, we have an orientation, and they begin!"
Steps also helps students secure housing, insurance and anything else they might need to help them settle in to New York life. Most reputable studios in New York offering equivalent international training programs will offer a similar degree of pastoral care. Athena Costello, current Conservatory student at Steps, has had a great experience so far. "The team at Steps on Broadway is very supportive," she says. "They made me feel very welcome, and the program is especially arranged to help the transition of new students in the first few weeks. The way the programme is organized really helps to not make you feel overwhelmed, because you're introduced slowly in the first few weeks."
Incoming student Kai Mann-Robertson has had a similar positive experience. "The Steps staff helped me acclimatise into the new city, and as a New York newbie, I could not be more grateful," he says. "Not only with help recommending accommodation, tourist locations and health cover, the Steps staff have been always more than willing to discuss the classes on offer, the styles of teachers, attractions and show to check out before they're gone, and so much more. It's a true family vibe."
For young people moving away from home, even temporarily, the family atmosphere at studios such as Steps is crucial. Surrounding yourself with like-minded individuals, with shared experiences, can help minimize homesickness, and help you feel safe. Former Conservatory student Brooke Lane went through the process with Steps at just 18 years old. "I knew it was going to be different, fun and definitely hard at times, but I always felt so supported by Steps," she describes. "My director and fellow dancers were all so amazing in making the transition to life in New York truly seamless. At the end of the day, most of the dancers were in the same position as me and had moved away from home to attend Steps. We were our own little family who were there for one another every step of the way. I stayed in a 'dancer's dorm', which was a housing option affiliated with Steps. A couple of my friends also stayed at the dorms, so it was great to always have others to walk with to Steps and friends to meet up with after class. Regardless of the time that I was travelling to or from class, I always felt safe in this lively city."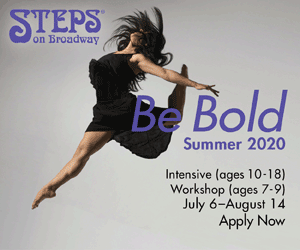 Of course, the training itself is the main reason the students choose somewhere like Steps, and Jackson considers it another essential aspect of building the community at the studio. "The people who are coming through here are phenomenal professionals in the field, and they have so much to offer," she explains. "It's just such a high level of training even at the beginner level, and our teachers really care about the students, so we have a beautiful community here. That's why the students love it so much and why they want to stay here or return. I always say it's about a vibe, and there's nothing wrong with other energies, it's just that we have a different one. We were the mecca, the first place in New York to put all of these dance styles under the one roof, and that's why we're such a trusted entity."
For students thinking about going overseas to train, it is certainly important that they head somewhere that caters to their dance and performance style, and will give them guidance and advice along the way. And, of course, this industry is all about connecting with others. Costello highly recommends New York as a place to network, as she points out, "We get to make important connections in the industry, and we get to work with Broadway and industry professionals and choreographers every day."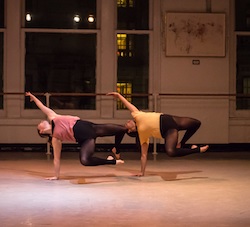 Mann-Robertson, who is still at the start of the process, is equally effusive. "I'm only at the beginning of my dance journey abroad, but I cannot wait to start seeing the changes the months to come will bring. Invest in yourself as an artist, like you would in a new car or a business, and you'll go further than you ever thought you could."
Meanwhile, Lane, who has returned to Australia since training at Steps, considers her experience the fulfilment of a dream. "I would most definitely recommend training abroad to other dancers, especially at Steps," she says. "The opportunities I received when I was there were priceless. I was able to work with Broadway performers and choreographers, the Rockettes and professional dancers through a range of classes of different styles. Additionally, the opportunities I have received since returning to Australia after training at Steps have been amazing. I have loved coming back home to bring a taste of New York to the dance scene over here and sharing everything I learnt from my experience over there. Some of my best friends are other dancers I met whilst overseas and we still chat frequently."
It seems the solution to overcoming any challenges linked with studying overseas is to choose an institution that offers great pastoral care from start to finish, and to commit to making friends and connections while you're away. While visa worries and homesickness might be a concern, Jackson ensures that Steps promotes inclusion from the get-go. "We're not representatives of our societal climate, so the love of dance is the thing here," she says. "We love being all-inclusive. Everyone is welcome to come and share in the love of dance and the passion we have for it."
For Lane, one sentence really sums up her experience. "Steps will forever feel like home." In the end, that's the way every dancer should feel when they are dancing abroad.
For more information on the courses available at Steps on Broadway, visit www.stepsnyc.com.
By Emily Newton-Smith of Dance Informa.