Arts Centre Melbourne, Melbourne.
25 September 2019.
Tetris, by Erik Kaiel, an American choreographer working in Europe, is a contemporary dance work being presented at the Arts Centre Melbourne. Choreographer and creator Kaiel says Tetris responds to the computer games of the '80s and '90s, whilst dealing with competing human desires for community and individuality. 
Tetris is simply staged. Four dancers perform physical games and choreography that allow them connection, and challenge to one another's need for connection.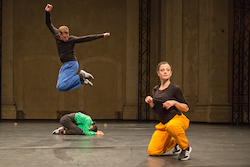 The piece is rich with physical comedy. The theatre comes alive with children's (and adults') delighted chortles as they grasp the games that unfold through the movement. 
Rubik's cubes appear on stage; the dancers begin to play with them. A dancer becomes controlled by the swivels and flips whilst unravelling the puzzle of the Rubik's cube. The cube finds its way to another dancer, and the performer is devilishly delighted by contorting the dancer who is bound to follow the Rubik's cube flips and swivels. The dancers then offer individual audience members the Rubik's cubes. The audience members then have the option to be in control of the dancer. This offer was a very gentle way to develop participation.
The audience participation develops across the final third of the piece, and the dancers invite children up on to the stage and introduce them to very basic movement games, many of which have been modelled in the performance. This continues until more people are on stage than in the audience; finally, the dancers have disappeared and all the action that was being performed, is being done so by the audience.  
Tetris is like an expert-level game of Twister, an homage to the '80s and the nerdy games that ruled the school yard. Audience participation is not essential, but certainly part of the fun. 
By Tamara Searle of Dance Informa.