For choreographers, The Rite Of Spring is as close to a rite of passage as it gets. Made famous by the scandalous Ballets Russes production of 1913, that shocked Paris society and introduced the world to composer Igor Stravinsky's dark, angular masterpiece, it has challenged creatives and beguiled audiences ever since. In addition to the notorious complexity of the music, its themes of sex, sacrifice and the inexorable cycles of nature continue to offer ancient and timeless motifs for dancemakers worldwide. 
Although considered one of the milestones of European performative dance, and an important bridge between ballet and contemporary, Rite has transcended its own heritage; and, come October, Australian audiences will be able to see how one of China's most revered living choreographers has tackled both the score and the narrative of a work originally created by the great Russian, Vaslav Nijinsky. Indeed, when Yang Liping brings her version of the classic to the Melbourne International Arts Festival, the lines will be well and truly blurred.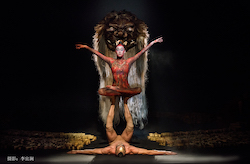 Yet, for all its much vaunted stature, Yang admits, "We had a very limited understanding of the original ballet from a choreography perspective. The most inspiring thing for me was the music. It is undoubtedly one of the greatest pieces in history. It's so great and so difficult that it's a big challenge to any choreographer. In my view, it's like a mysterious code Stravinsky left to us."
Known affectionately as the 'peacock princess of China', Yang first rose to fame as a dancer in the '80s before cementing her reputation with a visionary trilogy rooted in Tibetan Buddhism, the folk dance of her home province of Yunnan, and in the traditions of the ethnic minorities of that region. (She herself is of Dai ethnicity, from where her association with the peacock originally springs.) 
Though her work, including Rite Of Spring, continues to reflect strong and particular cultural nuances, at 60, Yang is keen to dissolve any preconceptions we may have around this. Indeed, she is quick to remind us notto focus on orthodox notions of East and West. "To be Western like or Eastern like is not my intention," she declares. "From a choreographic perspective, I have no idea of the boundaries between traditional or modern, Oriental or Western. These concepts exist in history and in the research of theorists, but I believe that we should not be constrained by them. I prefer to break inherent time and space constraints, like history and geography, in the time and space of the stage."
That said, taking on The Rite Of Spring necessarily involves often confronting ideas, most obviously sex and death. Here again, Yang subverts any expectations we in Australia may have about Chinese reluctance to engage with potentially controversial material. As she explains, "The nature of human beings is common. Love, hate, life, death, desire, dedication, sacrifice; these feelings are shared by people all over the world."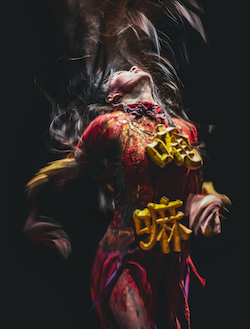 If Nijinsky's 1913 production was considered pagan, Yang's contemporary telling draws inspiration from Buddhism. "The original structure is from birth to death, a single storyline structure," she argues. "In this work, our structure is circular, from birth to death to rebirth. This is a very Oriental belief and perspective, and we hope to provide the Western audience with another way to look at the natural world and another possible answer to the ultimate question of life and death."
Beyond the standard dichotomies of East/West and linear/circular, The Rite Of Spring challenges modern audiences with a vision of the human animal in nature that our geometric, sanitised and abstract societies most often seek to deny. For life implies death, spring foretells autumn, youth presages age. 
"I think it's always important to address the nature of humanity in my dance work," Yang reveals. "I am from a village in Yunnan and in my previous works, like Dynamic Yunnan and Echoes Of Shangrila I based things on nature, on the animals and the people that live in this environment. I think the relationship between nature and human beings is vital; but a dance work can't express this comprehensively. It can only touch the surface. What audiences take away is influenced more by their own life experience."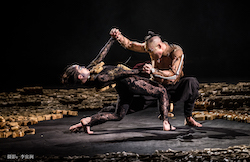 Melbourne Festival audiences will, however, be left in no doubt why Yang is the 'peacock princess'. In Rite, she uses both the peacock and the lion as totems. "The peacock is an animal I like very much. She symbolises the light. Meanwhile, the lion looks fierce and can represent the desire of human beings. He is also the embodiment of a force in Buddhism," she points out, before adding,"Light and desire, beauty and force; this is a very classic image, regardless of East and West. So, when designing the dance of the priests and the last chosen one, I use this dual image, which I expect will resonate with and be moving and familiar to the audience." 
Here then, the yin and the yang. "Everyone can become a messenger of light," Yang muses, "and everyone can become entangled in and controlled by desire."
Thus it seems that once again the Rite Of Spring will bring us back to the elemental, and although the work is unlikely to cause a riot in the theatre (as it did in 1913), it may well remind us that some rivers run deeper than the dams we build to contain them.   
Yang Liping Contemporary Dance will present Rite of Spring at the Melbourne International Arts Festival from 3 – 6 October. For tickets and more information, visit www.festival.melbourne/2019/events/rite-of-spring.
By Paul Ransom of Dance Informa.