Evolution Dance Competition is new to the industry, but it's rapidly evolving, as its name suggests. Starting last year with 11 cities, this season, the comp has expanded to 15, with much-anticipated Nationals on the Gold Coast in January.
Recently, Dance Informa had the privilege of talking with Aaron Couch and Thomas Doherty of Evolution to discover the vision behind this competition and why it's got young dancers buzzing.
Why did you start Evolution Dance Competition?
"There's obviously a lot of competitions around, but we saw the market for a more personalised approach toward competition. Despite the fact that it's a competition, we're not necessarily focused on the placings; we focus more on the nurturing and encouragement of the dancers."
So there's a focus on a dancer's growth?
"Yes, it's more about development and education more than competition. It's a competition format, but it's quite simply more about nurturing and developing the kids."
I've heard a lot of great feedback about your video critique system. Is this emphasis on education why you offer video critiques?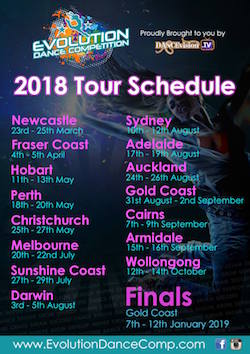 "Definitely. That's one of the main learning tools. Video critiques are a rare thing that a lot of the other competitions are just now figuring out. We hand-pick our judges based on their skill set, their resume and experience. We try and get judges who are really strong technicians, so they can give quality critiques over the audio. They're basically giving feedback throughout the entire dance. Then as soon as the dancer is done, they can get their critiques right away, either via the app on their phone or on a USB drive. They can take the critiques from one dance and apply them to their next piece within minutes!"
How was your first season received?
"It was really, really good. We had a lot of great feedback, and the video critiques were well-received. We also received much feedback on how smoothly and professionally the comp ran. Everyone got along really well. Everyone felt comfortable and laid back, but at the same time each event was professional, efficient and stress-free."
What would you say to studio owners who may be opposed to competitions?
"There's such value in competing, and especially our video critiques. We're not about over-sized plastic trophies and trips to the USA. We're more about developing and encouraging dancers to stay in Australia and hopefully find work in Australia. We see a big opportunity to try and keep the kids in the arts in Australia. Our prizes include dancewear vouchers, photo and video packages and development-based prizes like tickets to ADF and VDF, etc. We are genuinely interested in growing their technique."
Do you look to keep expanding into the future?
"At the moment, we're very happy, but as long as there's demand, we'll go there. We're open to expanding further."
So watch this space! If the hype around Evolution is anything to judge by, this competition will be in a city near you very soon!
To find out more about Evolution Dance Competition, visit www.evolutiondancecomp.com.
By Deborah Searle of Dance Informa.