By Grace Gassin of Dance Informa.
Last year, 17-year-old Sheridan Hancock was named Activewear Ambassador for Energetiks after winning the company's model search. Since then, she has become used to making the five-hour round trip from Great Western in country Victoria to the Melbourne headquarters of Energetiks to get the model treatment. Currently a student at Dynamic Dance Studios in Ararat, Sheridan believes the time and effort she puts in as ambassador is worth it, and not just for the hair and makeup. She's well aware of the fact that, compared to the hours put into the range's development by the Energetiks team, her day in front of the camera is but the final step in a long process.
"It can take between 8 and 12 weeks just to develop the fabric", says Karen Tsonidis, one of the Directors at Energetiks. "You have to develop the fabric swatches in conjunction with the mills you see, because the key to the success of a range is functionality — that means ensuring cool comfort so that sweat wicks away from the body, creating fabric that doesn't peel or fade after being washed, that allows range of motion and is stylish."
"From start to finish, it probably takes about six months to develop a range", Karen estimates. "It can take one pattern-maker a full day to make one size set even after everything has been perfected just to make sure it's correct."
The Energetiks team's newest range is Blue Horizons. Full of bright blues and yellow/greens, the inspiration behind Blue Horizons is spring, a desire to bring into the classroom the feeling of freedom, light and alertness that comes with the changing of the seasons. This is good news for Sheridan, who admits her weakness for bright colours and low or detailed backs. "I love them! Detailed backs just get me every time. They're beautiful but not too restricting." One Blue Horizons piece in particular seems destined for her personal wardrobe. "It's a crop top with a halter at the top and two thick bands at the back that come down [IAC94]. That's my favourite. I love the blue Energetiks have used as the block colour with a green piping. And of course, I love the back, it's really pretty."
To bring to life a fresh and dynamic range like Blue Horizons, all departments – design, production and marketing, work together closely to evoke spring – not just in the abstract, but with an intimate understanding of how dancers experience feelings through their bodies. Karen herself danced for many years until she was 26, and all members of the design and pattern-making team have a significant dance background. "Having that sense, as a dancer, of what a dancer wants, that's so important to us", says Karen.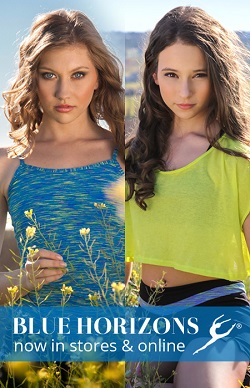 Founding Director Lynda Chapman takes a more hands-on role with the models due to her experience in photography, while Karen oversees pattern-making and production. Both, however, are always present at photo shoots to witness the birth of a range. For Karen, seeing the outfits modelled by Sheridan and the others is deeply satisfying. "I love the Blue Horizons range, in fact, I'm quite in awe of it. I saw it on the models and was taken with quite a few pieces. My favourite is the detailed crop top [ICC94]. I like how it "sits". It has a very flattering line in front and back."
"As for bottoms, I really like the contrast cross band bootleg [ICT69] which complements the top really well."
While Karen emphasises the importance of the company's collective dance background to its success creating dance activewear, Sheridan feels equally that the right outfit can contribute to success in the studio.  "If you feel pretty, you're going to dance pretty. Wearing the right practice clothes can definitely affect your experience in class." She's grateful that her studio allows its students to wear what they want, which means there's always plenty of scope to experiment with practice clothes between her ballet, tap, jazz and contemporary classes. Her dance outfits also double as gym or running outfits, reflecting her broader interest in fitness and the body.  Although Sheridan doesn't feel she is destined for a professional dance career, she has hopes of some day becoming a physiotherapist for a dance company to "stay involved in dance through the other side of things".
In the meantime, the Blue Horizons shoot is over and it's back to reality for Sheridan, hitting the books ahead of her exams. "Year 12 this year, wish me luck!"
To see the gorgeous new Blue Horizons range, go to www.energetiks.com.au.
To WIN a Blue Horizons Pack enter here!
Photo (top): Sheridan and young dancer Jacinta, model Blue Horizons.