Carriageworks
Thursday Oct 21
By Chris Bamford.
Presented at Carriageworks, Sweat gave us a fusion of dance, combining street styles with contemporary, to create an intriguing show.
There was no synopsis for the piece in the program, so it was very open to individual interpretation. I interpreted the work to be about stereotypes. This was shown by factory workers and cleaners and the struggles they face with society's labels. The piece showed us that just a little attention and praise for someone's hard work can go a long way.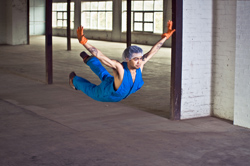 Sweat was a non seated interactive production.  The show started with us walking into the space, to then be ushered out again because we came in too slowly. Throughout the production the audience was constantly interacting with the performers, whilst they built the set around us and ushered us to different sections of the room for different parts of the story. 
All the performers brought a different style and element to the piece and they worked very well together. I was thoroughly engaged throughout the entire show. It was so unique and ingenious. Well done!
Photos by Heidrun Lohr