Branch Nebula is a Sydney-based performance company that curates works combining a street aesthetic with engaged contemporary performances ​– Food Fight, Snake Sessions and Enflame. ​The company's most recent work, ​High Performance Packing Tape, ​was recently showcased at the Sydney Opera House in September, and will appear at the Melbourne International Arts Festival in October.
High Performance Packing Tape i​s a witty meditation on the hidden risks contained in our everyday life that are hidden through the use of cheap throwaway materials. It's part contemporary dance and part death defying balancing acts and engaged street theatre of the absurd. Dance Informa spoke with Lee Wilson, one of ​Branch Nebula's ​artistic directors.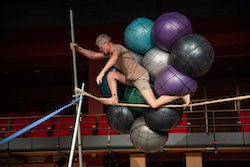 We can understand how ​High Performance Packing Tape​ could be a source of everyday frustration, but how did you transform it into a source of inspiration resulting in an actual fully fledged physical theatre production?
"First, I have to say that we don't do 'physical theatre'; we do contemporary performance. This idea of working with objects and readymade items, stuff off the shelf, has been around the company and part of our practices for many years. I met with Mickie [Quick] and got chatting about our time squatting in Sydney and discussed some acquaintances we had who had a lot of industrial box straps stored in a warehouse, and they were jumping into it and using it as a crash mat. I used to work as a store-person and packer, so when I had to pack a truck full of boxes of goods for the supermarket, it was like Tetris, and I'd be climbing all around inside trying to get the perfect pack."
Can you outline your performing background and what led you to performing this new style circus physical theatre show?
"I don't identify with the terms 'circus' or 'physical theatre' for this work. My background in performance is choreography and dance. I've been doing experimental performance dating back to when I was part of Post Arrivalists and doing radical performance art in the '90s. This year marks 20 years of Branch Nebula."
Does High Performance Packing Tape include any continuity with your past work?
"Yes, it has its roots in much of our previous work and continues our interest in making non-narrative and non-representational work which is textural and sensorial.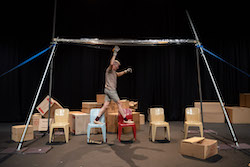 Branch Nebula's work is about the embodiment of ideas, rather than talking about ideas. It's about creating a situation that happens in real time that we are actually experiencing."
Can you outline how you developed and workshopped your ideas into a fully-fledged show?
"I was really keen to collaborate with Mickie as a visual artist, to come at live performance from a different angle. The initial development of the work took just 20 hours in a warehouse and was very lo-fi, with us driving around collecting materials from Officeworks, Bunnings and interesting objects off the streets of Sydney to make the show."
Beyond the recognition of the risks involved and the wonder of the magic of everyday objects, do you think that audiences emotionally connect with the themes in your show?
"Yes, but I don't necessarily think people need to have a narrative-based engagement or get attached to particular themes that are common in traditional performance. People can still appreciate something without emotionally connecting to the work."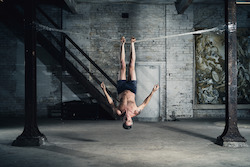 Moving on from ​High Performance Packing Tape, ​what future works are in the pipeline for Branch Nebula?
"We are about to develop a new street-style work called DEMO, which will have its world premiere in Sydney in late October."
Branch Nebula's High Performance Packing Tape will show at the Melbourne International Arts Festival from 2 – 6 October. For tickets, click here.
By Elizabeth Ashley of Dance Informa.