2010 ICU Worlds and IASF All Star Cheer and Dance World Championships!
By Chris Bamford. 
What has over 100,000 spectators, 18,000 dancers and cheerleaders from over sixty countries, TV crews, truckloads of makeup, battle uniforms or costumes and more hairspray than the musical? Add Disney World to that mix and you have the 2010 ICU Worlds and the IASF All Star Cheer and Dance World Championships!
What are the All Star Dance worlds, I hear you ask? It's where All Star Cheer and All Star Dance teams from over 60 countries including UK, Russia, Sweden, Ukraine, France, Colombia, Japan, Korea, Finland, Scotland, China, Germany, Mexico and New Zealand compete head to head for world championship titles.
Televised by ESPN with hundreds of thousands of spectators in Disney World Florida, five time national winner and bid winner Phoenix Empire represented Australia in the 2010 ICU and IASF World Dance Championships. This was the first time in history that Australia competed in both the international jazz and hip hop categories in the IASF competition. Head Dance Coach Dion Arlotta, together with captain Anna Szorkovszki, competed with Phoenix elite team, Kim Iversen, Amy Gough, Ned Jopson , Andrea Reich, Megan Cooney, Brad Spargo, Kelly Griffiths, and yours truly, Chris Bamford.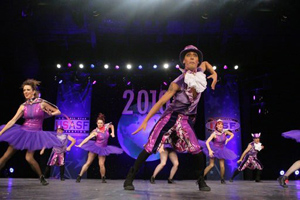 After the Australian National Championships in November, two new intense routines; 'Tribal' (jazz) and 'Alice In Wonderland' (hip hop) were developed. With three months of conditioning and rehearsals for 10-12 hours a week, we were finally on the plane to make All Star Dance history.
Arriving in Orlando International Airport, we were hustled through registration and a briefing. From there it was straight into rehearsal mode in preparation for the following three days of the most intense competition we had ever encountered. Upon arriving at the warm up area for a practice run, we saw the stage which was the size of a basketball court! With only ten dancers in our team, vigorous adjustments had to be made to our two and a half piece. With two routines, each with over 45 complex formations, fast transitions, extreme level changes and strict regulated dance lifts that required elite skills, we had a lot of work to do. All had to be executed perfectly to compete at this level.
The ICU opening ceremony, where we finally met all the other competitors from around the world was one of the most memorable experiences. With the ICU Championship allowing us to assess what we would come up against at IASF in the following days, we powered through and finished in 6th place.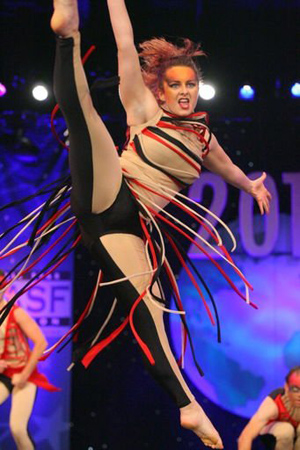 The next day dawned and it was the preliminary rounds of the IASF Worlds competition. Held at Epcot in Disney World, there were television crews, cameras and people everywhere. Representing the Australian All Stars Cheerleading and Dance Federation, we were the only international team to compete in both the hip hop and jazz international categories. As a strong crowd favourite, we came off stage to a line of people wanting photos with us.
In the preliminaries there were over sixty teams in jazz and over 125 teams competing in the hip hop category. I was informed that there were normally more teams but that half of Europe was unable to attend due to the volcano disaster. Finishing the day we were placed in the top 25 teams for both genres and we qualified to go through to the finals!
At the last day of competition the atmosphere was electric and all finalists brought so much more to the 'battle'. We performed our refined 'Tribal' & 'Alice in Wonderland' routines again. Our final rankings were 11th and 22nd respectively. With this being our inaugural year, we were extremely proud of the results, as the standard of competition was legendary.
It was great to see the top All Star Cheerleading and All Star Dance teams battle it out in a sport that now stretches all over the world.
Some inspirational routines came from Eastern Washington Elite (USA), Top Gun (USA), Bangkok University (Thailand), ADA Dark Angels (UK) and Oberlin University (Japan). Many of these routines are on youtube – so check them out.
I am extremely proud to be a part of Phoenix / Dance Team Australia. I created lasting memories and made many new friends from all over the world. All Star Cheer and All Star Dance, I realised… is bigger than you think!