Melbourne Fringe Festival's Take Over! 2020.
17 November 2020.
Firstly, what jumps out is the control both Govind Pillai and Raina Peterson exhibit. This is not to say that Drishti is an exercise in technical rigour or pure virtuosity but, rather, that the precise articulations of Indian classical dance, and their connection to centuries old spiritual/cultural practises, sit in curious contrast to the often undisciplined venting and narrow presentism of 2020. Indeed, situated in the context of the digital distance adopted by this year's Melbourne Fringe Take Over! season, the exacting physicality of Pillai and Peterson's movement reveals a stark incongruity. Here, two bodies – dancing, sweating, breathing in putatively private spaces – flattened to public pixilation. Consumed by distant eyes.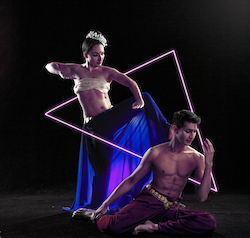 Then again, perhaps this chasm is what they want us to see, for Drishti was created both in and as a response to Melbourne's recent lockdown. The dancers are alone at home. The stages are bedrooms, loungerooms, bathrooms. Except they are not truly alone. They know they are being watched. An abstracted onlooker peers in. There is a sense of surveillance. Are they beheld as performers, or being monitored?
As the piece progresses, the reveal/conceal motif becomes ever more apparent, and we get the sense that what we are watching might just be a horror movie. There is a shower scene. There is the unsettling masking of a face by incredibly long black hair. There are shadows.
Yet, against this virtual backdrop of uncertainty and paranoia, the solidity of the moving body, and its precise expressions. Everything else is ambiguous; flesh and blood are our anchor.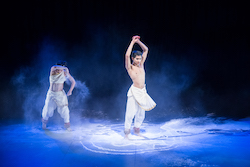 In Drishti, this is the core language, and both Peterson and Pillai speak it with aplomb. If, at times, the choreography reminds us of yoga poses or kitschy Karma Sutra illustrations, it also points to a deep archive of movement that transcends the viral video moment of infectious dystopia.
By referencing both the frantic now and the relative quiet of much that has gone before, Drishti has plenty of layers to enjoy, even if it seems a little rushed at times. That said, the creators acknowledge it is a work in progress, and there are moments when we sense the gaps. However, this does not distract from the sinuous beauty and strength of the classical Indian dance lexicon. For those wanting to remind themselves that (amidst Zoom plagues and password theatres) the human body is the primary canvas of culture, Peterson and Pillai may just be the (e)ticket.
By Paul Ransom of Dance Informa.