Dance Informa had the opportunity to talk to Olivia Ansell, Head of Theatre, Dance and Circus at the Sydney Opera House prior to the Sydney premiere of À Ố Làng Phố, a Vietnamese circus/dance theatre production. 
We asked how this Vietnamese circus group came to perform in Sydney. 
Prior to her current role, Ansell was producing the Perth Festival when she was alerted to the Hai Lang Pho company by a close colleague, and first saw the company in Perth.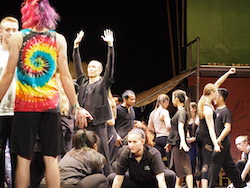 "They're so in demand that it was February last year that I started talking to them about performing at the Sydney Opera House, and the earliest we could get them into their touring calendar was June of this year," she explains. "It was in 2012 that they premiered À Ố Làng Phố, which roughly translates to 'From Country to City'. They now have five shows in their repertoire, three of them in residencies in the major Vietnamese cities, which run year round."
Ansell believes that this company will rival Cirque du Soleil in scale and size in the years to come, due to one major difference, being its dramaturgy, which is all about its culture, its past, its land; while Cirque du Soleil creates fictional narrative for all of its shows.
"I would liken them to a dance circus version of Bangarra, because they make very engaging theatre about their own story," Ansell reveals. "It's dance theatre. Fung, the producer, told me that they have three sets for this show, all in sea freight containers which are constantly moving around the globe to service their touring demands."
À Ố Làng Phốis about the changing face of Vietnam, with its rapid urbanisation, constant construction, as well as a mourning for its past simpler lifestyles, when houses as well as other items were made of bamboo, the elemental material of their culture. Vietnam is now a robust, bustling and dynamic country, following the regrowth after the Vietnam war. The people express resilience and a stoic sense of pride in rebuilding their country.
A French circus producer from Paris spotted the group and co-commissioned its first production.
This will be the fourth collaboration between the Arts Unit of NSW Education and the Sydney Opera House, with a number of students from public schools having the opportunity to take part in workshops and master classes. The Arts Unit provides students and teachers with motivating and engaging opportunities that inspire their creative potential. The Arts Unit delivers programs throughout public schools in NSW in dance, drama, music, visual arts, debating, public speaking, reading, spelling and special events. 
The À Ố Làng Phố workshop gave approximately 27 circus students from various NSW public schools the opportunity to participate and interact with the cast on the Joan Sutherland stage in the Sydney Opera House. To take part in the workshop, the students had to send a DVD of themselves performing. The successful ones had the opportunity to work with the cast on stage the day of the Sydney premiere.
Initially, the students were quite awe-struck and a bit reticent – not unusual considering the instructions were in Vietnamese! There were translations in 'English' from a French member of the cast as they began their warm-up with improvisational tasks (with lots of jumping) before challenging themselves with large bamboo woven baskets and other props alongside the cast.
They learnt some of the moves from the show, testing their recently learned 'tricks'. The fun and relaxed nature of the workshop soon had all the students taking advantage of every opportunity to move, to try their hand with the bamboo props and other paraphernalia while moving as directed, laughing and and letting go of their inhibitions.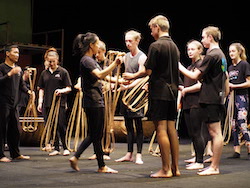 We spoke to Isabella Vinson (15 years old) from Ulladulla High School, who has a background in dance and has been doing circus for over 10 years with Circus 35 South and does circus as an elective at school.
When asked what she did for her audition footage, she replies, "I did a dynamic aerial sling (hammock) routine," and says she found that "having only done traditional circus workshops that focussed on skills such as trapeze and tumbling, this workshop was very different as it was all about improvisation and movement, and not so much traditional circus skills."
She adds, "My favourite part of the workshop was getting to work with the cast. They were so energetic and had a wealth of knowledge and performance techniques. I also very much enjoyed the improvisation warm-up. The most difficult part was letting go of any self-consciousness so I could have fun and get into the character and focus on what we were doing."
Hannah (17 years old), from the Nepean Creative and Performing Arts High School, has been studying circus for eight years and also has a dance/performance background. Her audition DVD "included movements that derived from my personal movement quality because I think it is important to allow your own sort of 'flair' to influence the way you move, especially on different apparati." She says she found that the "workshop was very drama driven and allowed for everyone's free spirit to run wild within the guidelines we were set to follow."
As she explains, "The application of rules and boundaries was really interesting due to the different results they created. For example, in a group of three to maintain a connection with one other member, while the third individual interweaved between the two, rather than moving with no connection at all. These rules created juxtaposing outcomes and taught me that there are ways in which different approaches and angles can influence the outcome of choreographic processes."
By Elizabeth Ashley of Dance Informa.