If time is the ultimate distance, how far is 50 years?
Amidst a slew of recent high profile golden jubilees (moon landing, Woodstock, etc), the 50th anniversary of the Australian premiere of the iconic '60s rock musical, Hair, may have passed most of us by. However, when the 2019 'tribe' takes to the stage in Perth this August (at the start of a national tour taking in Sydney, the Gold Coast and selected regional theatres), the big ticket revival of the stage's most hirsute show will not only prompt even more boomer nostalgia but also remind us how far we have come since 1969, which, it seems, may not be that far.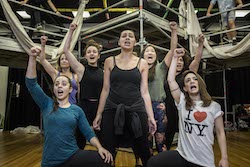 We may well be more waxed than hairy these days, and Vietnam is now a favourite holiday destination, but the generational, cultural, sexual and political schisms that Hair highlighted are perhaps as evident now as they were half a century ago.
"There are so many things that are falling along the same lines," states Angelique Cassimatis, who stars as the ecologically aware Jeanie. "It's so bizarre that we're dealing with versions of the same things or, as some of the songs and dialogue talk about, the pollution in the air and how basically some people just close their eyes and pretend that nothing's happening."
Having made her mainstage debut in 2000, the Brisbane-trained dancer (and genuine triple threat) has appeared in shows as diverse as Rent, Priscilla and Saturday Night Fever. Yet, her role as Jeanie has clearly connected with her at level that goes beyond the specifics of performance. "What she's talking about is what we're worried about right now," Cassimatis says. "Pollution, recycling, plastics, everything piling up. You know, Jeanie's song ['Air'] probably started out as a bit of fun, but it's actually quite serious."
Indeed, Cassimatis is not shy about the show's obviously political content, nor its underlying call to action. As she says, Hair wants you to "open your peripheral vision." In an era of self-reflecting and often amplified ideological silos, the topicality is clear. "We talk about global warming and some people just say it's not a thing," she adds, "but environment was a thing they were talking about 50 years ago; so, right now, even though it's a very strong issue, people are still putting their head in the sand and pretending it's not happening."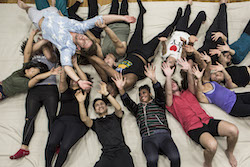 Aside from any ongoing disputes over politics and environment, Cassimatis is happy to celebrate another parallel with 1969. Back then, when Hair opened in Sydney, Jeanie was played by a young American import named Marcia Hines. These days, Hines, who made Australia her home, is one of the grand dames of both the music industry and the theatre.
"I actually got to go over the lines with her," Cassimatis reveals. "The way she spoke about Hair and her memories of performing that show were not so much the bells and whistles that some of our shows have got as they've evolved with time but that, in 1969, she said they actually felt like they were making a change. She said, 'We felt like we were making people listen.' That in itself was such an amazing thing to hear."
If the original Australian production of Hair made stars of luminaries like Hines, Jim Sharman and John Walters, this year's tribe is also weighted with celebrity. The cast includes Voice star Prinnie Stevens, ARIA winner Paulini and Logie winner Hugh Sheridan. Yet, for Cassimatis, one of the most exciting inclusions in the 2019 creative team is renowned choreographer Amy Campbell. Having worked with Campbell previously on her one-woman show, Guilty Pleasures, Cassimatis is clearly delighted to be reunited with her.
Of the show's choreography, she observes, "It's not your typical style of movement. [It's] an amazing meld of interesting contemporary, abstract, sort of performance art style; and she just has such a strong vision that it's just wonderful to be in the room with her. It's also a privilege for me to work with such a strong, female presence."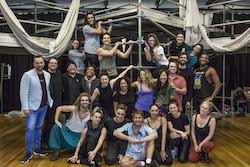 Here is where we see Cassimatis' dance background shining through. For her, slick moves are not the point, nor is mere Broadway razzle. "Amy comes at it from the perspective that everything needs to have a reason, which I really respect," she declares. "Everything stems from a thought; which is important, because sometimes with dance I feel that maybe it's gone in a different direction. But you can say so much with just a little movement if it comes from somewhere."
With her passion for both dance and the broader socio-political themes of Hair on display, she sums it up thus: "People forget that sometimes the most powerful movement is the smallest one, because it takes the most energy."
Fifty years may well have passed since the tumult of '69, but, despite the distance, the tribe is still calling out for us to join their number and others are still fervently resisting; future and past in conflict over a disputed present. Looks like we blinked, and time stood still.
Hair is on tour in Australia through October 12. For tickets and more information, visit www.hairthemusical.com.au.
By Paul Ransom of Dance Informa.