If you're a dancer in Australia or an avid reader of Dance Informa, the name Lucy Ellis will certainly not be foreign to you. In fact, Ellis is not only a dance household name in Australia, but she is consistently making her mark internationally whilst delivering her sold-out workshops around the world. Dance Informa has spoken with Ellis a few times about her various successes – Lucy Ellis #Skills.
Well, she's done it again! This time, she's teamed up with another likeminded dance world heavy weight, Kylie Norris, who is certainly no less of a success story than Ellis.
Norris is a New Zealand-based studio owner and choreographer and is well renowned for her unique style and ability to produce technically-sound dancers.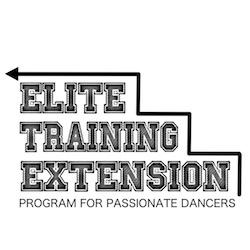 Together, this dynamic duo has ignited the souls of young and aspiring dancers by presenting their latest concept of training, the Elite Training Extension Program (ETEP).
The ETEP was initially launched in Adelaide in early 2018. It's aimed at providing industry relevant and professional training to passionate dancers who wish to further enhance their craft. Comprised of stretching, conditioning, technique, dance choreography and audition readiness preparation, combined with their regular studio training, the ETEP has everything a dancer could need to step into a career professional of dance.
The program is not just for those who are already skilled artists. Ellis and Norris are huge advocates of growth and development through appropriate stages and have highly encouraged students of all skill levels to audition.
"Overall, we were looking for passionate dancers," Ellis shares. "Students who wanted to practise at home, weren't afraid to go back to basics and give 100 percent in class." 
ETEP has since had its New Zealand debut with classes being facilitated by a host of industry professionals, including Joel Hewlett, Kira Stray, Emma Phillips, Jessica Toatoa and Ellie Ashe.
"I would say that from a NZ dance teachers perspective, I wanted to make the workshop environment training available to dancers in our country on a regular basis," Norris explains. "This style of training seems to be on offer in large states in Australia and is very normal to them. With ETEP, the kids who are dreaming of 'making it' in the industry thrive on dancing with each other on a weekly basis instead of against (each other) in the competition scene." 
Term 3 saw the ETEP make a move to Western Australia and had 150 hopefuls audition for a coveted position. Students will have the opportunity to dance in front of industry professionals on a weekly basis, allowing for a new way for young dancers to network that has not yet been accessible until now.
Although dance workshops have been around for decades, and are great for offering sporadic inspiration, there has not been a consistent program that can encourage, develop and monitor the technical skills of a dancer in the way that the ETEP does. Participants are becoming stronger, more dynamic and technically proficient in a way that doesn't depend solely on learning and perfecting a competition choreography. It challenges them to work hard and see what that hard work can transpire into with a little dedication.
For more information on the program and information on how to audition, you can follow the Instagram accounts Nz_eliteextensionprogram and eliteextansionprogram.aus.
By Jessie Krieg of Dance Informa.