Three-time Emmy nominated choreographer Stacey Tookey is coming to Australia, direct from New York, next February for the Energetiks Victorian Dance Festival (VDF).
The Canadian-born director, choreographer and dancer, who has worked with legendary musical artists such as Justin Timberlake, Celine Dion, Bette Midler, Paula Abdul and Michael Bublé, is coming to Australia to share her passion for dance with thousands of dancers at the Royal Exhibition Building, Carlton Gardens, Melbourne.
"I was fortunate to have the most amazing teachers and mentors growing up and thoughout my dance career," Tookey shares. "Without each and every one of them, I would not be the dancer/teacher/creator I am today. I am so grateful! Now it's my turn to pass on the information I have learned from them and add what I have acquired myself though my experiences."
Tookey was as a member of Mia Michaels' dance company, RAW, in NYC, Parsons Dance Project, Ballet British Columbia, ChuThis and the Houston Grand Opera's Carmen. She was the assistant choreographer for A Few Good Men Dancin' on Broadway.
As an original cast member for the entire five-year run of Celine Dion's record-breaking show, A New Day, Tookey performed alongside another choreorgraphic great – Australia's own Sarah Boulter. The two became close friends and are looking forward to catching up when Tookey makes her first trip Down Under.
"I have been wanting to come to Australia for as long as I can remember!" Tookey says with excitement. "I love being involved in teaching opportunities in different countries. I feel like I receive new inspiration from new environments and different dancers."
For all those So You Think You Can Dance (SYTYCD) fans out there, Tookey is a household name, having worked as a resident choreographer and guest judge on SYTYCD U.S. and Canada for the past eight seasons. She received three Emmy nominations for her work on the show.
"The highlight of my choreographic career so far would have to be the moment I was nominated for my first Emmy," shares Tookey. "I was so shocked that something like that could happen to me. It made me believe in my abilities more and drove me to dream big and shoot for the stars!"
Having not only choreographed for several music videos, movies and even the London Olympics, Tookey has created full-length works for companies such as Los Angeles Ballet and the Cincinnati Ballet, as well as her own company, Still Motion.
Tookey has had a busy summer in the States, between Still Motion performing at DansEncore Festival in Quebec, choreographing on SYTYCD, teaching master classes at The Dance Awards and privately at many studios through North America, and her week-long, invitation-only mentorship dance camp called Camp Protégé.
"Currently, I am setting a full work at a Montclair State University, teaching across America on NUVO Dance Convention tour, continuing to produce events for talented young students in relationship to Camp Protégé and working on a new show for my dance company Still Motion," she says. "I am also an expert at playing My Little Pony and nail salon with my two-year-old!"
Dance is in her genes, having starting dance at the same age her daughter is now. "Dance is really my first language," she reveals. "I started when I was two years old, and my mum (who has owned her dance studio for 47 years now) was my first teacher. I fell in love with dance at an early age, and the older I get and more I learn about my craft, the more dance makes me feel alive."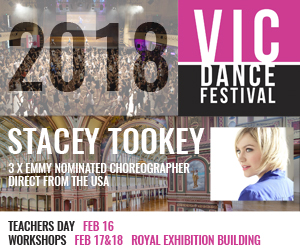 At the 2018 VDF, Tookey will not only bring the students alive with her beautiful movement but the teachers as well, as it's just been announced that she will not only give a key note presentation at the VDF Teacher Day on Friday, February 16, but also a dance class!
"I love watching dancers come out of their comfort zone, take risks and believe in themselves," Tookey shares. "My favourite thing about teaching is watching dancers change right in front of my eyes, sometimes without even realising that I'm watching. I hope to spark even a tiny seed of inspiration and self-belief."
Whatever age and level, all dancers who take Tookey's classes at VDF will definitely leave inspired.
"I hope that dancers walk away from my class feeling like they have opened up and trusted themselves more," says Tookey. "Everyone has a gift to share. I hope dancers leave class feeling like they got to show that gift to everyone in the room."
To get your tickets to VDF or the VDF Teacher Day, just visit www.victoriandancefestival.com.
VDF is open to dancers from all across Australia, and international groups are already making bookings. If you'd like to book seats in the VDF Bus from Sydney, Canberra or Adelaide, just contact VDF's Travel Partner, TP World Tours at info@tpworldtours.com.
By Deborah Searle of Dance Informa.