Want to double your wardrobe options?

The intersection of dance and fashion isn't exactly an original concept. But it seems to be enjoying a recent resurgence. Leotards, lycra, leggings, onesies, and cut up tanks are popping up in fashion magazines and blogs.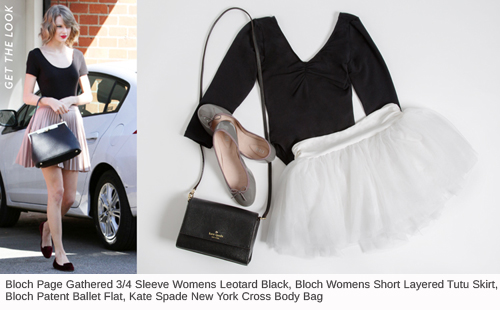 This is great news for dancers — because your wardrobe options just more than doubled!
"It's incredible how you can trade out things from your dance bag to wear from day to night," New York beauty expert and former Rockette Emily Loftiss says. "Dancers had it right all along!"
Here are a few ideas to get you started: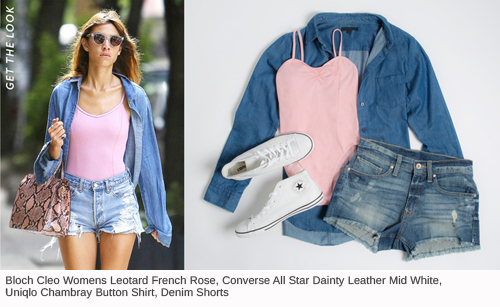 Layer with leos
Don't underestimate the power — or should I say versatility — of your leotards. Body-hugging and available in an array of colors, leos make a great foundation for a number of outfits.
Layer a three-quarter length leotard with a vest and chunky necklaces. Or pair your tank style with a blazer and some high-waisted pants or a skirt. And an added bonus… unlike tees or blouses, your leotard will never bunch or come untucked.
Taylor Swift has been rocking the basic black leo lately. Get this simple and fun look with a low back Peoni Women's Leotard and a circle skirt. Or glam it up a little with a tutu skirt. Swift even slips on a cute pair of black ballet flats to complete the sweet studio to street look.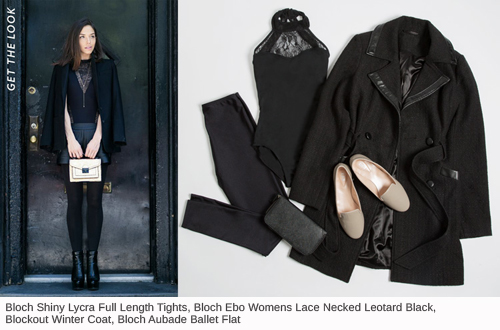 Or look dashing in denim with this cute and casual leotard and denim short combo. What dancer doesn't have a basic spaghetti strap leotard that could act as a form-fitting pop of colour under a denim shirt?
Lace is so dainty, delicate and all the rage right now. Bloch has released some stunning lace detail leotards in the Lace Collection  that look stunning on stage, but also with a skirt and fashion blazer for a night out. Add a pair of black tights to keep your warm in these cooler months.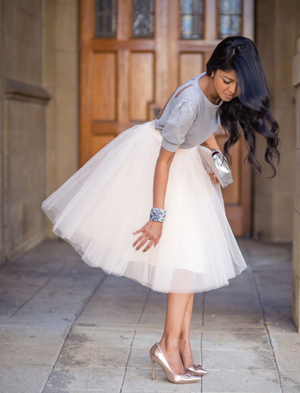 Tutus for any dance floor
Who doesn't feel beautiful in a tutu? They are feminine and ethereal. Have you ever thought of pairing a tutu skirt with a long sleeve turtle neck or fashion sweater for a night out or special event? Add a cute, comfy pair of ballet flats to complete the look, or dress it up with some heels. You'll be sure to get compliments and feel oh so pretty.
Active life = activewear
Movement is your life, both in and outside of the dance studio. So let your dance clothes multi-task as your activewear.
The Bloch Studio Activewear Collection  is bright and energetic. Layer the crop tops, tees, tanks and colourful tights for dance classes such as hip hop or open jazz, and then mix and match these items for the gym or a comfy day of running errands.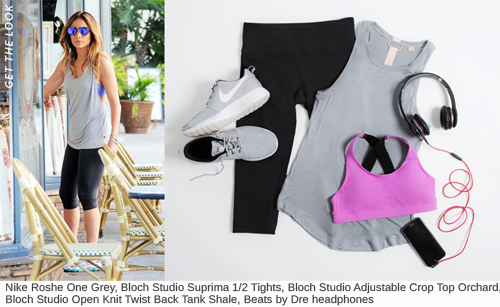 Jennifer Lopez loves the activewear look, with a loose tank over a coloured crop top, paired with plain, form fitting ¾ tights.
Go cas for winter
Warm ups are a dancer essential. So stay warm — and fashionable — during the upcoming winter months in and out of the studio with your warm ups. Pull on a pair of legwarmers with your jeans or tights. Even wear your legwarmers peeking out of your winter boots. Layer up fitted t-shirts with arm warmers. And get everyday cozy with a knitted shrug or ballet wrap sweater.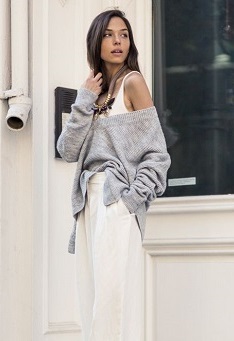 Dance & fashion: A long love affair
From couture runways, to royal courts, and mainstream brands, dance has influenced what we wear for centuries — and vice versa.
In the 17th century, Louis XIV, the King of France widely credited with helping establish the first ballet school, had elaborate costumes designed for his court dances. Later, in the 19th century, famous ballerinas such as Marie Taglioni and Fanny Elssler rose up onto their toes, leading to revelations in dance footwear and costuming. These experimentations, which created ethereal illusions, inspired many designers of the time.
Then, there's ballet impresario Sergei Diaghilev and his famed touring troupe, the Ballet Russes. The ensemble collaborated with French fashion designer Coco Chanel, and rumor had it that Diaghilev also hired the likes of Picasso and Matisse to design costumes for his company.
Hollywood also turned towards dance as fashion inspiration — think Audrey Hepburn in Funny Face and 1980s cult classics like Dirty Dancing and Flashdance. More recently, New York City Ballet Dancers have donned designs by fashion industry leaders such as Valentino and Rodarte, among others.
By Stephanie Wolf of Dance Informa.
Image sources:
Pink leotard with denim & Jennifer Lopez activewear: www.whowhatwear.com
Taylor Swift: www.usmagazine.com 
Tutu with grey sweater: www.bloglovin.com
Tutu with black turtleneck: www.fashionsy.com
Lace leo with jacket & Grey sweater with pants: www.refinery29.com