By Rebecca Martin of Dance Informa.
Vertical Shadows' world premiere season of The White Prince stars Damien Welch and Marc Cassidy, both Australian Ballet royalty, as well as Teagan Lowe, formerly of Sydney Dance Company. Neither Welch or Cassidy have performed since their retirement from The Australian Ballet and the dancers are returning to the stage exclusively for Vertical Shadows in May.
Artistic Director and Choreographer Stephen Agisilaou has been at the helm of Vertical Shadows since creating the company in 2008. Adored by critics, fans and dancers alike, Vertical Shadows is at the forefront of contemporary dance theatre in Australia and is set to blow away audiences with its new production.
Agisilaou tells Dance Informa that The White Prince will not just be a dance show; he says that it will be a theatrical experience that encompasses sound and animation as well as dancing.
Dance Informa spoke to Welch and Cassidy during rehearsals to see how they were adjusting to being back in the studio…
What have you been up to since retiring from dance?
Damien Welch
"After officially retiring, I did some work with The Australian Ballet both behind the scenes and onstage in character roles. After that, I decided to try something completely different and have been working as a real estate agent in the role of business development manager. I have been doing this for two years now."
Marc Cassidy
"I have retrained as a Pilates Instructor and Remedial Massage Therapist and work from my studio TrueFormPilates in Yarraville."
What has inspired you to return to the stage with Vertical Shadows?
Damien
"I feel refreshed after having some time away from dance so completely. When I was approached by Stephen to be a part of this show, I did a little research on VS and was very impressed with the quality of the productions. After Marc and I met with Stephen, I was reassured that we would be working within my physical limitations as a slightly broken 41-year-old ex-dancer. I have always enjoyed both the choreographic process and performing, and since agreeing to be a part of the White Prince I have been getting steadily more and more excited."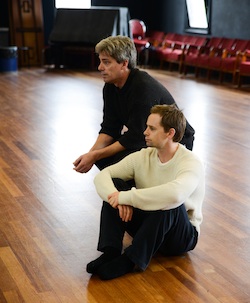 Marc
"I think once performing is in your blood, it's pretty hard to just let it go; it's not an easy career and so you need to love it to do it in the first place. After I was approached about the project and watched some of Stephen's previous work, it looked like a great opportunity and something I wanted to be involved in."
What are you hoping to get out of this personally by coming on board with the show?
Damien
"I will be physically sore I am sure, but I think that working with Stephen, Marc and the boys will be the highlight; sharing another once-in-a-lifetime experience."
Marc
"I want to satiate my desire to dance once more in a theatre. The kitchen has become a bit small and my choreography is terrible… so hopefully this will tide me over for a while."
Make sure to get your tickets to The White Prince at The Meat Market, 5 Blackwood Street, North Melbourne. Shows run May 16, 17, 21, 22, 23 and 24, with two matinees on May 17 and 24. www.verticalshadows.com
Photos by Pru Wilson.