Move Through Life Dance Company, with live music by The Special Guests Soul Band
By Deborah Searle of Dance Informa.
Marion Cultural Centre, Adelaide
Thursday February 27
Move Through Life Dance Company's newest work, Soul Night at The Cinnamon Lounge, built on the past success of Black Coffee, a sellout performance from Fringe 2009. With Black Coffee being such a hit, I was wondering how the project-based dance company would top it, but they certainly did with Soul Night.
Soul Night celebrated the highs and lows of the turbulent sixties and seventies, shaped by the Vietnam War, conscription, the protest movement, changing gender roles, feminism and the pervasiveness of cigarette advertising.
Upon entering the performance space one was immediately immersed in the glam of the sixties and seventies with the cast in cute sixties outfits and beehives to match, mingling about the set which included lounges, tables and chairs, bar tables, and regular theatre tiered seating. The audience was part of the set and it felt like a real jazz lounge from the era, complete with a bar where the wine was flowing.
Move Through Life Dance Company does two things very well – provide high quality performance opportunities for non-professional adult dancers and create shows that entertain and excite on so many levels that viewers of all ages and demographics can enjoy them. They create an inviting atmosphere to allow adult dancers to continue to, or get back to, high level dance, and inviting shows to get audiences to, or back into, the theatre.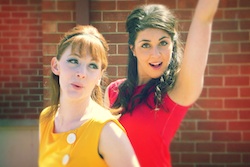 Although the dancers of the company are of different levels of dance background and training, with several new dancers this season, the commitment and performance quality was high from all and the new dancers proved their place on the stage. You could tell that the dancers were giving their all and having a great time doing it, making the audience have a wonderful time too. The enthusiasm was infectious, as was the music!
The band was outstanding and it reproduced the iconic sixties/seventies songs with groove. Jayde McSeveney and Eliza Dickson in vocals were fantastic. Their talent matched the height of Eliza's impressive beehive!
Overall, Soul Night was a treat. The choreography was varied and the program went from roaring sixties fun one minute to discussing the very real issue of violence against women, or the pain left in the wake of conscription and the Vietnam War. Soul Night took us on an intense emotional journey, but it was also very fun, with enough light-hearted numbers and opportunities for the audience to stand up and dance that you didn't leave emotionally drained, but on a high.
With many of the dancers lending their hands to the choreography, as well as several numbers by Artistic Director Jo McDonald, the company showcased its skills in dance creation. Several numbers were contemporary or even physical theatre in nature, while others were very jazzy and full of go-go frivolity. Move Through Life has a talented bunch of choreographers and I was engrossed by McDonald's cigarette themed work, as well as her confronting pieces about domestic violence. Other standout works included a nurses of war piece by Alice Wagstaff, a conscription piece by Louise Durrans and an emotionally charged mothers of war number by Kirsty Duncan, that as a mother left me choked up.
Soul Night was a very ambitious undertaking, but Move Through Life pulled it off with ease and created not just a show, but an all-immersive dance and music experience that took us back in time. Bravo!