The Tap Pack, an infectious, swinging, tap-dancing comedy, is set to take the Parramatta Riverside Theatre in Sydney by storm this March with its unique mix of cheek, charm and sophistication.
Inspired by the highly entertaining performances of the original 1960s' "Rat Pack", which formed around the great Humphrey Bogart and featured the undeniably cool Frank Sinatra, Dean Martin and Sammy Davis Jnr., The Tap Pack offers old classics with a fresh new twist in a tightly packed one hour show.
Written and choreographed by tap talent Thomas J. Egan, Jordan Pollard and Jesse Rasmussen, the show features five of Australia's own triple threats, a swingin' six piece live band and irresistible songs both old and new.
"People tend to forget how amazing live performance is," says choreographer and performer Thomas J. Egan. "The Tap Pack picks up where the Rat Pack left off, putting high-energy tap dancing alongside witty banter, slick humour, sharp suits and, above all, a great night out. We feel it can reach the young and young-at-heart because it has a timeless charm, yet we bring a fresh, invigorating energy."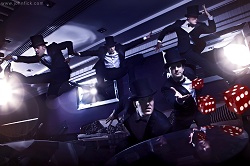 A show inspired by the legends of yesteryear, the idea for the show came about through a casual chat over drinks. "It all started with a conversation at our bar. We started talking and all of us felt passionate towards creating something that inspires us so much. It just so happens that all of us love jazz music, can tap dance and wanted to bring back this style," shares Jesse Rasmussen.
"From a young age, all of us have had a unique connection to jazz music and we were lucky enough to learn about Frank, Dean and Sammy growing up," adds Egan. "If anybody has seen or heard the Rat Pack, they were just entertainers. Just like the Rat Pack, we Tap Pack guys have camaraderie from our close friendships through the industry. We wish to harness this into something reminiscent of the legends of the 1960s. We are just totally inspired to pay homage to the classics but overall bring laughter and joy to audiences."
And now this dream has become a reality. "It's not easy taking an idea, a dream, from nothing and getting it moving, but we've all had great belief in this project and all put such positive energy towards The Tap Pack that it doesn't really feel like work," explains Rasmussen. "Working together has been extremely rewarding, we have such respect for each other and we are motivated to making it succeed."
From classic Rat Pack numbers "Lady is a Tramp" and "Straighten Up and Fly Right", to Beyonce and Cee Lo Green "swingified", The Tap Pack promises great music and impressive dancing from some of Australia's most talented tappers. The five young men behind the show, alongside Director Nigel Turner-Carroll, share international dance and choreographic credits in over 20 live musical theatre productions, motion picture blockbusters, television series and more.
"Having all done a variety of shows, some coming from a similar era as the Rat Pack, we have come to thrive in this style. Working professionally in musical theatre, commercial dance and choreographing for artists gives you great experience to draw from and we will be bringing our unique flavour to it," Rasmussen elaborates.
To get your tickets visit www.riversideparramatta.com.au. The show runs for three nights only from Thursday, March 21st to Saturday, March 23rd. For more information visit www.form.org.au.