Our favourite mouse, Angelina Ballerina has returned to Australia by popular demand. Performed by the Royal New Zealand Ballet, Angelina Ballerina's Big Audition is the perfect introduction for children to the magical world of dance.
Angelina Ballerina's Big Audition takes audiences on the next step of Angelina's journey to become a prima ballerina as she prepares to audition for the prestigious Camembert Academy.  This production follows the hugely successful Angelina's Star Performance.
Angelina Ballerina has been a much-loved children's character since 1982. Inspired by original illustrations and stories by Helen Craig and Katherine Holabird, Angelina Ballerina's Big Audition features Royal New Zealand Ballet dancers performing to a recorded arrangement of Tchaikovsky's music.
The performance is choreographed by the English National Ballet's Antony Dowson with costumes, based on the original Angelina Ballerina drawings by Wizzy Shawyer, and set designs from Al Riches.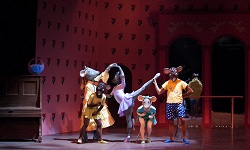 Angelina Ballerina's creators said that the stage show has real sparkle and magic. "We attended Angelina's performances several times, and thought it was absolutely beautiful and wonderfully funny. This sparkling and original ballet is a magical theatrical experience for young and old alike," said creators Helen Craig and Katharine Holabird.
Caught up in Angelina Ballerina's magic, Dance Informa spoke with some Royal New Zealand Ballet's star performers.
You've toured to Australia for this production. What's your favourite thing about touring?
Tarrah Burns
I've never toured before, so this is something new and exciting for me, but I'm really excited about visiting all the beautiful and amazing locations across Australia and New Zealand.
Matthew Carey
Getting to see new and interesting places.
Rebekha Duncan
Getting the opportunity to be able to perform in new locations and to different audiences.
Where did you train?
Tarrah Burns
New Zealand School of Dance and Victorian College of the Arts Secondary School.
Matthew Carey
Australian Ballet School and Western Australian Academy of Performing Arts.
Rebekha Duncan
New Zealand School of Dance
Angelina Ballerina brings children's stories to life on stage. What's your favourite children's book?
Tarrah Burns
Harry Potter. I was the same age as Harry, Ron and Hermione as the books were being published, so we practically grew up together!
Matthew Carey
Harry Potter!
Rebekha Duncan
The Winnie the Pooh series.
In Angelina Ballerina you have to dance as mice. What are your favourite animals?
Tarrah Burns
Meerkats! Ever since I was young and watched Timon on the The Lion King, they have always been my favourite!
Matthew Carey
The albino Peacock, it's so beautiful and majestic.
Rebekha Duncan
Chihuahuas, as they are tiny and easily transportable.
Angelina Ballerina delighted Sydney audiences in late December and is now touring to Brisbane and Melbourne for January performances.
Brisbane
January 7-13
Playhouse, QPAC
www.qpac.com.au
Adelaide
January 17-21 
Adelaide Festival Centre, Dunstan Playhouse
www.adelaidefestivalcentre.com.au
Melbourne
January 24-28
The Arts Centre
www.artscentremelbourne.com.au
Canberra
February 1-4
Canberra Theatre Centre
www.canberratheatrecentre.com.au
Photos by Patrick Baldwin