By Grace Edwards.
Marking its 20th anniversary in style, the Australian Conservatoire of Ballet (formerly the Christine Walsh Dance Centre) recently moved into its brand new purpose-built studios. The two-storey building features three climate-controlled sprung-floor studios, a building-wide intercom system and even its own production room. ACB students have no doubt been putting it to good use this month as they gear up to present their first ballet since the relocation, Swan Lake, to be held later this month at The Art Centre's State Theatre in Melbourne. Reflecting on their twenty-year journey with the ACB, directors Christine Walsh and Ricardo Ella share their thoughts with Dance Informa's Grace Edwards.
How does it feel to look back and realise that the ACB is now twenty years old?
Ricardo
Wow, I never really noticed it until only just recently [laughs]. I think all the on-going hard work over the last twenty years kind of gave me a late reaction to it and now, all of a sudden, we've found ourselves in a brand new building. Yes, it's a very exciting prospect and with having a brand new building, perhaps it will give us a chance to run for another twenty years!
Christine
It's just amazing! I can't believe how the time's flown, but then when I look at what Ricardo and I have done over the last twenty years you realise that yes, it definitely has taken twenty years. For instance, building up our training and assessment programme is obviously a very significant achievement, and also just building of the school in its reputation; the fact that we're invited to perform at the Arts Centre on an annual basis and have our own orchestra – all of these things have definitely taken those twenty years of hard work and vision. We've always wanted to have this type of school at this point, so yes, it feels really, really good.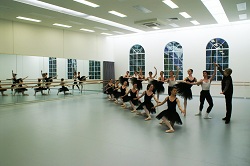 The main studio in the new building is named the "Dame Margaret Scott Studio". What has been the nature of her contribution to the school?
Christine
Dame Margaret Scott was the teacher of both Ricardo and myself at the Australian Ballet School. She was the founding director of the Australian Ballet School and she's actually been our patron for the whole twenty years. She's always been so supportive, and we decided that it was very important that she would be a part of this new building and that we should honour her by naming the new studio after her.
She came to the opening and she was really thrilled! She has been such a mentor to so many Australian dancers over a very long period, much longer than twenty years. We're very proud to have her as our patron.
Reflecting on your time at the Conservatoire, what have been the major challenges that the school has faced?
Ricardo
I think probably the biggest continual challenge, one of many challenges we have encountered, is that we have always aimed to have our students graduate. We want to help them achieve their goals. Basically, we aim to lead them into a career in dance. I feel we have achieved that aim, as many past students are now working with companies all over the world.
Another more specific challenge is maintaining our ability to perform at the Arts Centre on an annual basis with national guest artists and with an 80 to 90-piece orchestra. These are the opportunities that not many other schools are able to boast and therefore offer an unusual challenge, but we are very proud because I think this is one of the biggest achievements a school can gain.
What were you like as a student and do any of your students remind you of yourself at that age?
Christine
Right from when I was five years of age I was quite driven to dance; that is all I have ever wanted to do. I did do other activities (I used to play the piano and tennis among other things), but it was always ballet that, for me, was the overriding goal and main focus.  I don't recall ever wanting to do anything else with my life.
As for my students, I guess that occasionally I find someone that has similarities with myself and my journey, but I think every child is an individual.  Everyone has their own qualities and they might be similar but they are never the same. I think it's very important as a director to recognise that your students will all blossom in their own way.
Over the time that you've been at the school, you've directed many productions. What has been your favourite?
Christine
That's a difficult one! The Nutcracker was our first production. We did that after only two years with the school. But I think my favourite is still Swan Lake, which we're doing this year. It was one of my favourites as a principal dancer to dance and I think just musically, the Tchaikovsky score is so magnificent that it doesn't fail to move any of my students whenever we do it, especially the fourth act – by then, all my swans are in tears!
Ricardo, you teach the boys' classes and pas de deux classes. What do you try to impart to your students and what's the secret to being a good pas de deux partner?
I mainly try to impart to my students that they need to have a professional attitude and work very hard towards their goals. Another thing we stress is that they need to be realistic about themselves, particularly about which ballet or dance companies they should be in. We always try to give impartial information and keep an atmosphere of openness. After all, not everybody is going to be in a big ballet company, and everybody has to know where they are at.
As for the secret to being a good pas de deux partner? Be unselfish. Always look after your partner and always give your partner priority. Always save them and make them look good. That's it, just be unselfish.
Christine, what is the core of your own teaching philosophy? Have you found that it's changed much over the years?
I don't think my overriding philosophy has changed. That philosophy is that each student must be trained as an individual.  That's because the artistry is, for me, the most important thing. However, over the years I think I've probably become better at analysing students' weaknesses so that I can help them overcome them earlier.
But overriding everything is artistry and musicality. Throughout my career I felt that was vitally important and as teacher and director I still do.
Congratulations to Christine Walsh and Ricardo Ella on a successful 20 years, and a lovely new studio!
The Australian Conservatoire of Ballet presents 'Swan Lake' at the State Theatre, The Arts Centre, Melbourne, Wednesday 21st and Thursday 22nd December. For enquiries, phone 03 9421 2000, or for more information www.acbaustralia.com.au
Top photo: Ballet Gala 2009. Photo by Jeff Busby