Sydney Opera House
June 8 2011
By Elizabeth Ashley
'A dictionary of Cuban Dance' is the way Artistic Director Nilda Guerra describes Havana Rakatan, a dance spectacular which has been one of Cuba's most popular exports over the last few years.
With little story-line, Havana Rakatan is a showcase of the vast array of Cuban dance styles presented from their African roots through to the second-half razzle-dazzle of Cuban salsa tinged with popping and locking.
With 13 dancers selected from the prestigious National School of Dance and backed by the dynamic 8-piece band Turquino, Havana Rakatan exemplifies the integral and intertwined evolution of dance and music. Seemingly boundless energy is expressed through excellent choreography and simple but effective back-drop scenes of Havana.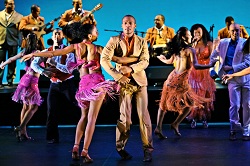 The opening is a sequence of entrancing Afro-Cuban swaying and circling, juxtaposed with the technical finesse and structure of Spanish flamenco to symbolise both the African roots and Spanish colonial influence. However, Havana Rakatan is no history lesson but rather an infectious celebration of the vibrancy of Cuban music and dance culture.
Daytime Cuba is followed by Havana nightlife complete with shimmering costumes and shimmering footwork. After intermission there is an entertaining mix of sparkling clean mambo, spinning salsa and an unexpected humorous zombie sequence. The men steal the show as they leap and turn in spectacular fashion displaying cool macho bravado as well as bare chests. Geydi Chapman combines her powerful voice to the pulsating Cuban rhythms of the band to add yet another dimension.
Despite the lack of narrative thread, Nilda Guerra manages to infuse light and shade through the ebb and flow of pace and style. These dancers are in no way 'street dancers' doing salsa, cha-cha and mambo. Rather, they are supreme technicians blending contemporary and traditional dance as they move with sophistication through the bolero, rumba and Afro-Cuban rhythms.
Havana Rakatan highlights a dance culture that is integral to the social fabric of Cuba whether day or night, on the streets and in the clubs. This is not a dance culture construed for theatre performance, but the spectators on opening night are celebrating these Cubans on centre stage.
As the show builds to a close, the audience is on their feet moving and clapping to the sultry salsa beat, caught up in the infectious Cuban energy of Havana Rakatan.
What better place to be during a cold, wet winter than on the hot and steamy streets of Havana?