By Kristy Johnson
He became a household name through So You Think You Can Dance and was a perfect fit for street dancer Leroy in FAME, so what can we expect from Tim Omaji next?
A back injury during his time with FAME could have marked a disaster for Tim, yet it was this unfortunate event that enabled the star to focus on producing music. "Before FAME wrapped up, I injured my back and was off dancing from October to early January", says Tim. "Some of the crazy moves I used to do I'm kind of hesitant to do now, but it gave me the opportunity to really focus on producing music. I had the opportunity to work with DJ Poet, who is the official DJ of the Black Eyed Peas. We wrote a couple of songs together and it really kind of put music on the focus."
So how does one manage to score such an impressive gig? "It was all through management," says Tim. "My management had also approached DJ Poet to work with other artists as well. They said this guy is coming up, his music is similar, let's work together."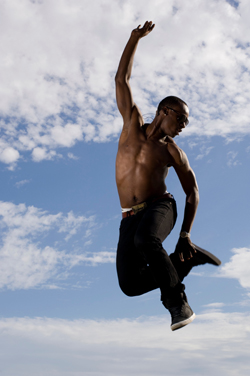 Timomatic fans can expect to hear these tunes on the airwaves soon. "Hopefully in a couple of months. These kind of things are really up to them – their side of the ball. They take the tracks back to the States and work on it there. Obviously they have a million projects and I guess as an up-and-coming artist in Australia, it may not be a priority. But I'm hoping," says Tim.
Whether or not we get to hear these tracks straight away, you can expect to see more of Tim in the entertainment scene. "Entertainment on a whole is what I'm about right now. I think music and dance can't live without each other. Music obviously is an expression through melody and harmonies which I've never wanted to not do, and then dance is the expression of music. But when I hear music I start dancing," says Tim.
He might be working with the big guns in LA, yet Australia will always be Tim's home base. "I would love to go and make a name in the US. I see myself as an international global artist of the future, but I love Australia and always want to keep it my home and my base."
Besides working with DJ Poet, Tim has already produced an album. "When I was in FAME I recorded a somewhat debut album. There was quite a lot of down time around the shows, so I edited, produced, recorded and wrote 25 tracks. Out of those I chose about 12. Come opening night, my back goes out, and it was kind of pushed to the backburner. I plan to re-release that as well as release a studio album signed to a label by the end of the year," says Tim.
What kind of beats can we expect to be rocking to? "I see my style as being an eclectic style, but I think the base of it will be R&B because that's kind of where it started. It will be R&B through different styles. I see myself as a Ne-Yo, Usher and Michael Jackson mix: music that makes people want to dance and feel good."