By Grace Edwards.
One of Béjart Ballet Lausanne's leading artists, former Australian Ballet dancer Paul Knobloch returned home to Australia last month to remount his work Valetta on the students of the Australian Ballet School.  Dance Informa's Grace Edwards caught up with the dancer and budding choreographer, snatching a glimpse of a rehearsal in the process.
On the fifth floor of the spacious Australian Ballet building on Melbourne's Kavanagh Street,  the ABS's senior students are scattered across the floor of a dance studio warming up, laughing and chatting in their various shades of purple and pink.  They are here to rehearse guest choreographer Paul Knobloch's work, Valetta.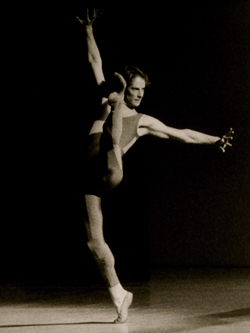 Valetta, named after Knobloch's grandmother, was first commissioned by the Australian Ballet's Artistic Director David McAllister three years ago and is now part of the Australian Ballet School's permanent repertoire. As a guest choreographer, Knobloch clearly savours the task at hand. A former student of the Australia Ballet School himself, Knobloch graduated with honours in 1997. Upon graduation, he joined the West Australian and the English National Ballet, and was subsequently invited to join The Australian Ballet in 2002.
Knobloch stayed with the Australian Ballet for eight years before joining Béjart Ballet Lausanne.
"It was a very hard decision for me to leave the Australian Ballet," he tells me, "but I think, looking back, that it's been the right one for me. To experience the opportunities that I have…I feel like within a year I've achieved so many milestones, ones that at times I didn't think were attainable. I look back at this year and go 'Wow, what I've achieved in one year is incredible with the Béjart Ballet Lausanne.'"
I ask him if he sees a future for himself as a choreographer.  "Definitely," replies Knobloch. "I really enjoy being part of the creative process as a dancer, so having the chance to step on to the other side and create dances myself is something that I really enjoy doing. It's something that I hope will keep me in the  field of dance for a long time. I've already done four works for the Australian Ballet, and now that I'm dancing with the Béjart Ballet Lausanne, I have more of an opportunity to get out there in Europe, which I'm hoping to do within the next year or so."
For the moment though, Knobloch's main focus is his dancing. Among the many iconic ballets in which he has performed are The Nutcracker, Sleeping Beauty, Les Sylphides, La Bayadere, Le Corsaire, Suite en Blanc, Romeo and Juliet, and Raymonda.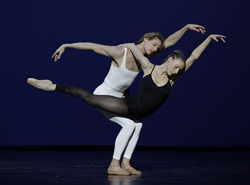 "I was so fortunate to dance La Sylphide not only with the AB, but also as a guest with the Dancers Company of the Australian Ballet School. I performed that with one of my best friends, [Australian Ballet soloist] Gina Brescanini, and it's one of the most memorable moments of my career. It's a beautiful ballet, a beautiful score, and something that I hold really close to me in that realm. I had the fortunate opportunity to dance the Prince with Lucinda Dunn in Graeme Murphy's Nutcracker as well, and that's a role that I really enjoyed doing."
Though his own training both at the Canberra Dance Development Centre and at the ABS has been overwhelmingly classical, Knobloch is reluctant to categorise himself as a purely classical dancer. "I consider myself quite versatile, or I hope to be anyway [laugh]. I think I'm considered, in the Béjart Ballet, one of the 'ballet men' of the company, so I tend to take on those roles, but I get contemporary roles as well, which is exciting for me. I like exploring different facets of dance."
There are few companies better positioned to give Knobloch that opportunity than the Béjart Ballet, home of the nearly 250 works created by renowned twentieth century choreographer Maurice Béjart. "Since joining the Béjart Ballet Lausanne, I've had the opportunity to dance Webern Opus 5, a piece that Maurice Béjart choreographed back in the 1970s, which I performed at the Paris Opera Garnier on opening night. That was an incredible milestone for me, and a ballet that I love performing. Also, I loved dancing to the music of Queen in Béjart's Le Presbytère. The costumes are by Versace, and it's a very contemporary piece. I've danced in so many works, but I love them all."
 "It's a great company and it's a very hard working company," says Knobloch. "We tour so much and you're always a bit like a gypsy living out of a suitcase, but at the same time it's an incredible experience. One day we're in the South of France and the next in Spain, so you get to experience so much, and you get to work on the world's renowned stages. Though of course it's also hard to travel out of a suit case for most of the year."
I ask Knobloch what he believes has been the most important factor in his successful career.  "Dance is such a big part of my life, and I have a great network of support behind me with my family, my mother, my former teacher, and my friends. That's something that I really hold close – having that support network to encourage you on your journey and to believe in you."
In return, Knobloch has shown his support for the next generation of Australian dancers, taking contemporary dance and ballet workshops at his old school, the Canberra Dance Development Centre. "I've always had a strong connection with the Canberra Dance Development Centre. Each time I come home, I always dabble there in some way, whether it be in choreography or teaching. I have a strong connection there with the director, Jackie Hallahan, so it's been nice to be able to always come back and see the growth of the studio and of the Centre itself. It was really good to see the standard of dancers in Canberra, and I think there's a great future for them."
An inspiration to all, Knobloch's parting words of advice to aspiring dancers are simple. "Something that I always try to instill upon an audience is the sheer enjoyment of movement, to touch the people who are watching your performance in some way. In the end, it is important to go beyond steps, and really dance from the heart."
Published by www.danceinforma.com