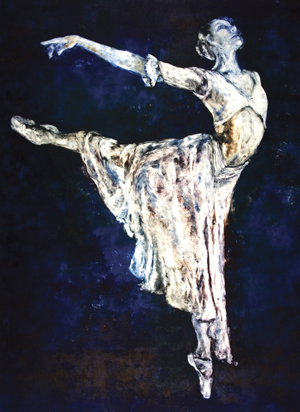 Award-winning artist Debra Luccio's latest exhibition opening early November in Melbourne displays the exuberant result of her rich collaboration with the Queensland Ballet as it rehearsed and performed its return season of A Midsummer Night's Dream.
This is Debra's fifth solo show and the first opportunity for audiences to see her work since she was announced the winner of the CPM National Print Award earlier this year.
The themes of this show – titled The Dream and the Dance – continue Debra's unique and painterly examination of the figure. This was Debra's main reason for seeking collaboration with a dance company, but the surprise for her – and the reward in her work – was the irresistible power of performance. "I have worked with modern dance companies before and was familiar with all the mechanics of muscular movement that they bring onto the stage. What I learned from the dancers at Queensland Ballet was that their first concern was the beauty of performance. "They layer the dance to hide mechanical motion and show only the choreographed line they draw with their bodies. Layering – with ink, with paint – has always been a feature of my work, so I felt a very strong connection with what they do as artists," Debra says.
The result is that the work in The Dream and the Dance examines not only the figure but also the artistic creation of beauty in Debra's distinct visual language.
Debra Luccio The Dream & the Dance: Images of the Queensland Ballet
3 – 29 November 2009
Steps Gallery 62 Lygon St Carlton South 3053
Gallery Hours: Tue-Fri 12-4 Sat-Sun 12-5
P: 0448 026643 E: info@debraluccio.com W: www.debraluccio.com