10 December 2020.
Capitol Theatre, Sydney.
It was seven years ago when Disney's animated film Frozen opened in cinemas in the USA, smashing records to become an overnight global phenomenon. Now a hit Broadway musical, Frozen holds even more significance as it takes Australia by storm. Not only is it one of the first major musicals to open since the start of the COVID-19 pandemic, it is also the first time it has been staged outside of the USA, journeying from the Broadway stage to our very own Sydney's Capitol Theatre.
Frozen is the story of two sisters, Anna (Courtney Monsma) and Elsa (Jemma Rix), who are driven apart by magic and reunited by love. The theme of true love is evident by the bond they share as sisters. While trying to control her magical power of creating ice and snow, a young Elsa accidentally blasts Anna with ice, injuring her sister while playing together. Elsa is unable to conceal her powers, so to protect her and Anna, their parents shut the castle doors and separate the sisters, with the reason for this separation erased from Anna's memory. With the death of their parents at sea, Elsa is next in line to become Queen of Arendelle. It is at her coronation that she is reunited with Anna only to have her powers accidentally exposed after her emotionally charged reaction to Anna announcing her sudden engagement to Prince Hans (Thomas McGuane). Elsa flees and inadvertently sends the kingdom of Arendelle into an eternal winter. Anna's story of true love evolves on her quest to find Elsa where she is helped by the handsome Kristoff (Sean Sinclair) and his trusty reindeer companion Sven (Jonathan MacMillan alternating with Lochie McIntyre) and the magical snowman Olaf (Matthew Lee).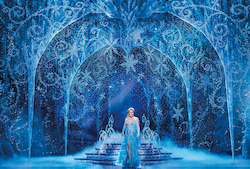 One of the first musical numbers of the show is the heart melting song, "Do You Want to Build a Snowman?", sung beautifully by a young Anna (Chloe Delle-Vedove) on stage with a young Elsa (Deeana Cheong Foo). Both Delle-Vedove and Cheong Foo are captivating as they set the backstory, bringing to life their characters with personality and confidence beyond their years. The magic and special effects that Disney Theatrical Productions are known for comes alive on stage, not only with the sparkling lightning blast of Elsa's icy powers but also when the sisters carefully build their own snowman, Olaf. No sooner had they finished, Olaf magically starts to move on his own which had the audience in awe with childlike wonder. 
The story of Frozen is driven by its wonderful music and lyrics by Kristen Anderson-Lopez and Robert Lopez. Songs that were originally developed for the animated film that weren't included have found a home in this stage production. As well as these new songs, there are of course the much-loved favourites, including "For the First Time in Forever", "Love is an Open Door" and the Academy Award-winning song "Let it Go" superbly sung by Rix.
At the heart of Frozen is Elsa's magical power to create ice and snow which she is unable to control. Bringing Elsa's magical power to the stage and creating a glistening icy wonderland is masterfully done by Lighting Designer Natasha Katz and complemented by Costume and Scenic Designer Christopher Oram, Sound Designer Peter Hylenski, Video Designer Finn Ross and Special Effects Designer Jeremy Chernick. These multi-award-winning creatives successfully combined moving lighting effects, video screens with floating snowflakes, large props resembling spikey shards of ice that appear from the side of stage, the misty haze of dry ice, and the sound effects of cracking ice to evoke the ethereal feeling of being engulfed by ice and snow. Using sensational special effects, in one scene, the ensemble all dressed in white were unbelievably mystically transformed into a frozen block of ice. The highlight, however, was the grandeur and spectacle of Elsa's sparkling and magical frozen palace and the dazzling beauty of her breathtaking crystal encrusted gown worn by Rix. Along with her surprising dress reveal, it was a truly magical and enchanting Disney princess moment! 
With some changes from the animated film to the stage, Director Michael Grandage introduced the mysterious 'Hidden Folk' inspired by Norwegian folklore that take the place of the original trolls. It is this mountain tribal group that help Anna recover when she is first injured as a child by Elsa's magical powers.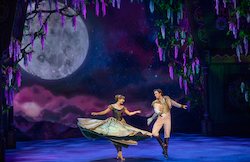 This production is led by a strong Australian cast. McGuane plays one of Anna's love interests, Hans. He is convincing as a Prince Charming who deceives us all. Sinclair as Anna's true love Kristoff is an outdoorsman who is loyal and endearing. Rix in the role of Elsa is no stranger to being a leading lady in a hit stage musical having played Elphaba in the musical Wicked. She carried the weight and emotion of Frozen's anthem, "Let it Go", with power and a wonderful sense of ease. A standout in this production is Monsma as Anna. In her first leading role, she shines with wide-eyed optimism, playfulness and a heart-felt tenderness, not to mention her powerful voice and dancing ability. It is as if she has stepped straight out of a Disney book and on to the stage. Another standout performer is Lee, who is exceptional as Olaf. An already well-known all-round performer, he can now add puppetry to his list of talents. He makes it look easy, coordinating the complex movements of Olaf while bringing Olaf's outgoing and friendly personality to life, all while singing and dancing. 
As one of the most anticipated musical premieres in Australia, Frozen is sure to surprise and delight audiences. The Disney magic, the spectacular special effects combined with show stopping music and an exceptional cast makes this a production one that you and your family will enjoy. Don't "Let it Go" without securing your tickets.
Frozen is now showing in Sydney at the Capitol Theatre until 2 May 2021. For more information, visit frozenthemusical.com.au.
By Nicole Saleh of Dance Informa.