Xander McGowan is a soloist with the Stuttgart Ballet, arguably one of the world's great ballet company's and the flagship for the brilliant John Cranko. Originally from Texas, McGowan studied at the Cranko Ballet School before becoming a member of the company in 2012. With the company, he has danced much of the great repertoire, including Siegfried in Swan Lake, Basilio in Don Quixote, and Paris in Romeo and Juliet.
Because of coronavirus, McGowan found himself with time to spare. "A ballet dancer's work schedule is pretty time consuming," he shares. "Now, I have a lot of time to pursue my other passions."
Not content to rest during coronavirus, or wait it out, McGowan has relentlessly extended his fitness and his artistry. "I have been running a lot — 20km a week. I have never really trained running until now. It was absolutely killer at the beginning, but now I really enjoy it. Running not only keeps my condition, but it is a great exercise for discipline."
Extending his artistry during isolation has been less arduous, and McGowan has used his digital creativity to interact with his audiences. "I was able to create DANSEUR, for example," he explains. "DANSEUR is a journalistic saga of my experiences on and off the stage in regard to my career as a male dancer."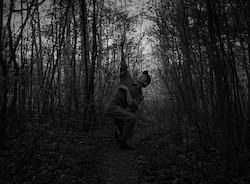 It is unsurprising that a dancer wants to take control of the medium which drives so much of the choreography, especially someone from the lineage of Cranko's work, which is so deeply responsive to the music. The 10-track digital music album and four digital music videos McGowan has created may be about his experiences as a male dancer, but he doesn't think the work is ​gender specific.
"I believe every professional ballet dancer has experienced and can relate to every lyric in this project," he comments. "I think the unique aspect of DANSEUR is that I can draw on multiple audience groups. The dancers can relate to the experiences. Ballet fans will love to hear a 'behind-the-scenes' perspective of the art they love. Hip hop fans will enjoy fresh source material. But I think there is something in DANSEUR for all ages and demographics. I hope the audience can feel the honesty behind the lyrics. I hope they will look at ballet dancers differently next time they are watching a show."
McGowan is influenced by hip hop artists, including Drake and Childish Gambino and says, "I like Drake for his single track vocals. I love the vibes of Anderson Paak, Childish Gambino for his source material, Young Thug for his unapologetic vocals and, lastly, The Weeknd for his mastery of the craft."
We asked McGowan what he was most looking forward to when the coronavirus restrictions ease. "Handshakes," he says. "There is no replacement for a firm handshake and a warm smile."
Xander McGowan's work, DANSUER, will release on all major music streaming platforms, such as Spotify, Apple Music, Deezer and Tidal, on June 21. You can follow McGowan on one of his two Instagram accounts, where the digital imagery associated with the project will drop: @xandermcgowan and @prod.xander.
By Tamara Searle of Dance Informa.