The Abbotsford Convent, Melbourne. 
29 February 2020. 
Project F by Prue Lang is presented in the context of the Keir Choreographic Awards. The Keir's is in its fourth iteration. The great benefit of the awards is perhaps not the prize itself but the generation of new work, expanded practices and audiences. Project F was seeded in a previous Keir award season, when Lang was competing, and has since then been further developed to see its presentation in line with the 2020 program of the awards.  
Project F is presented at the Magdalen Laundries, the site of the former catholic convent which housed women in need at the Abbotsford Convent. Although the Abbotsford Convent has been transformed into an arts precinct, and although the transformation is slick, its history pervades its architecture, and there remains a sense of solitude and confinement, and service to spirituality. This history contextualises the dance material, conjuring oppressions and freedoms, as the audience arrive.   
Inside the North Magdalen Laundry, where hundreds of women toiled, and where the work is presented, there is a large white panel draped from rear ceiling to audience, which frames a new space and creates aninterior world concealing part of the laundry and an exterior worldwhich reveals the original site. Largely, the dance of Project F takes place within the white space.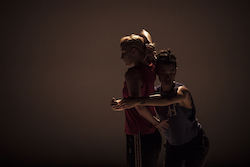 Lang, who conceived and choreographed the work, intends the work to be a kinesthetic engagement with feminism. Lang draws on the feminist spirit she perceives in the work of 12th century mystic Hildegarde Von Bingen and contemporary rapper Princess Nokia. Accepted roles and gestures of women are examined and tested through movement. In an oddly beautiful solo of undulation and disintegration, there is an examination of the woman as boxer. There is a venture in to the world of women and balletic virtuosity. One of the most compelling moments in Project F is the finale of the work; there is a startling monologue, delivered by text projection, leading us into the future. It takes the form of a hypothetical timeline listing dates and events that will increase the visibility and agency and safety of women in society. An imaginary, theoretical future. There is a satisfying symmetry with the mysticism evoked by the imaginary timeline and the mysticism of the two female artists (Von Bingen and Princess Nokia), whose music and qualities are drawn on in the work.  
Project F has finished its short season in Melbourne but will likely find other presentations in Australia. Further seasons of Project F in 2020 include Rencontres Chorégraphiques Internationales de Seine-Saint-Denis in France, and New Baltic Dance Festival in Lithuania. 
By Tamara Searle of Dance Informa.