Young dancers considering a career in the performing arts can be stumped by the maze of options confronting them. Who do you study with? Should you concentrate on performing arts or incorporate other industry skills? What balance of regular and performing arts education do you undertake?
Considering that a professional performer's career can often be abbreviated and they can reach their prime at a young age (generally in their mid to late 20s), decisions they make in high school can have long-term ramifications.
The McDonald College,​ in association with ​Sydney Dance Company,​ has already laid the groundwork to develop industry pathways that transition aspiring young dancers to industry ready professionals. Its Senior Contemporary Dance Program was launched in 2019, and is open to students in Years 10-12 who wish to develop into creative, forward-thinking contemporary dance artists.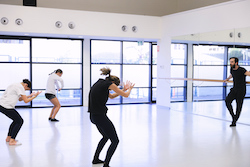 Working in collaboration with ​Sydney Dance Company, The McDonald College ​will be able to offer its students the opportunity to develop advanced contemporary dance techniques, technical skills and artistry whilst working with Sydney Dance Company by way of taking advantage of the company's network of choreographers and educators who are working at the forefront of the industry. The Pre-Professional Year (PPY) has benefitted from this network for many years and is now opening it up to McDonald College students.
As Linda Gamblin, Head of Training at Sydney Dance Company, responds to our question, "Why is Sydney Dance Company doing this?" She responds with, "We just want to share the word. The PPY program has been very successful, and we want to keep encouraging young dancers to find their way."
This is an ideal opportunity for students who come from a variety of dance backgrounds to train toward an elite contemporary dance career as an ensemble member of a full-time dance company, an independent dancer, choreographer, director, dance educator or an integral collaborator in any creative environment.
Dance Informa spoke with Shauna Maguire, from ​The McDonald College,​ who was pleased with the progress of this developing program
"Last year was our first year presenting the program," she says. "So we're still creating a dialogue around the program, and I feel like we have a bit more to show people now. Essentially, it's based around The McDonald College model that we already had, with academic schooling until 4:40pm each day, including, two hours allocated to do performing arts."
It's not a compulsory pathway into the PPY program, but it gives students a taste of the training. It also gives them a broad range of skills so that they can leave with the tools needed for a number of industry careers, whether that be dance educator or performer.
"One of our 2019 Year 12 graduates, Emily McMahon, will be the first student from the Senior Contemporary Dance Program to join PPY at Sydney Dance Company," Maguire notes.
The McDonald College provides a comprehensive in-house training facility that allows students to do their HSC, whilst undertaking intensive performing arts training 10 hours per week.
"Skills learned across the three main focus areas of technique, creativity and performance will support students' development across all areas of contemporary dance," Maguire explains. "By exploring various improvisation skills and movement qualities, students will enhance their ability to collaborate in a co-creative environment, becoming active creators in choreographic developments."
Maguire continues, "Creativity is a massive part of the program. The teachers want students to try to think on their feet. They really get them out of their comfort zone. I think it's still the only collaboration of its kind in the country that we're aware of."
There are three audition opportunities in March, June and September, which is for entry into the College for the following year. The audition will be a group audition facilitated by Sydney Dance Company at the College.
From the Sydney Dance Company perspective, the company is excited to expose young dancers to the expertise of its unique range of performing and teaching staff. As Artistic Director Rafael Bonachela comments, "Sydney Dance Company is thrilled to be collaborating with The McDonald College on this innovative program for young dancers. It gives me great pleasure to witness these dancers receiving the support and industry expertise required to transform into sophisticated artists."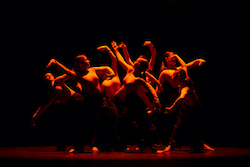 Gamblin has worked closely with The McDonald College to create the curriculum for the program.
Of critical importance is working creatively and collaboratively with other dancers and other artists. "It's really about what they try to express and which way they want to go," Gamblin says. "I find by collaborating on that level where you have an industry specialist coming in and giving you their ideas while including you in the process, bringing your ideas to the table, it gives you a strong voice. And you can take not only those ideas but also that way of communicating within a group throughout your career."
Gamblin adds, "I love young people doing this. These sort of collaborative experiences, where they cooperate with one another, they trust one another and have to trust they come up with ideas and not feel judged by their ideas. We all bring ideas to the table that aren't being used often. It makes you then feel okay about it."
Sydney Dance Company creative training in action involves "taking an idea in choreography and taking it to the end," explains Gamblin. "Then you perform it so that literally you're collaborating within the creative environment in the studio with the industry specialist. And the students are right there with the choreographer, improvising to the task and creating their own movement, offering ideas and exploring one another. And helping to bring a piece together that way and then saying, 'We were part of that development.'"
Dance Informa had the pleasure to speak with Emily McMahon, who went through the program last year, while doing her HSC, and is now doing the PPY program. She offered this advice to any dancers who were considering the Senior Contemporary Dance Program.
"Go into the program with an open mind," McMahon says. "Some of the students didn't. And I just thought that if they had stayed a few months into the course, they would have loved it. After they saw our piece at the end of the course, they were amazed."
McMahon adds, "We worked with Lucas Jervis on a piece, and we were all a bit scared because it wasn't anything like we had ever been exposed to, working with different people all the time, but I loved working with Lucas because his stuff was completely different to what I have ever done. Then we did a piece with Cas Mortimer, and I really liked his process, where we made up little phrases out of the material he gave us, and then he videoed us and we all learnt off the video. It was a really cool to have some of our own material in the piece."
The 2021 Entry Auditions for the Senior Contemporary Dance Program will be held on Friday 27 March, Friday 12 June and Friday 4 September at The McDonald College in North Strathfield, Sydney. Click here to register for an audition.
By Elizabeth Ashley of Dance Informa.