Australian/New Zealand ballet students have a rare opportunity to study Balanchine Style® and Technique® at the upcoming series of International Ballet Workshops (IBW). With offical approval from the George Balanchine Trust, IBW is bringing Elizabeth Walker over from New York, to teach at the Winter workshops this July. Walker spent 19 years with New York City Ballet (NYCB) before going on to teach at the School of American Ballet and Ballet Academy East (BAE).
As with all IBW events, there will be unique opportunities on offer for students at the workshops, including scholarships to train at BAE, as well as $2,500 in grant money.
Dance Informa spoke to Walker to find out what she is looking forward to at the IBW Winter 2019 Balanchine Series and what students can expect from her classes.
What are you most looking forward to about teaching at International Ballet Workshops?
"I have to be honest, I'm so excited to have the opportunity to go to Australia and New Zealand! I've traveled to dozens of countries but not there, and I'm intrigued to experience the culture and people. In addition, I'm under the impression there is not very much exposure to Balanchine choreography. I'm looking forward to being an ambassador for Balanchine's style and technique. Hopefully a young generation of dancers will be inspired."
What sort of principles and ideas do you incorporate into your teaching?
"I love the craft of teaching and always feel there is something new to learn about how to communicate information to students and how to help them excel within the scope of their own strengths and weaknesses. Technique, the actual engineering and mechanical skill of the physical body, is important in how it eventually frees the dancer to move and express. Then the mind and emotions also need to be encouraged to get involved in the expression. Music is maybe the most significant factor in Balanchine's choreography, so the dancer's technique and expression ultimately serve the music. Lastly, I feel it is so important for young dancers to learn the context of a choreographer like Balanchine in dance history. His genius had so much impact on the evolution of dance because of what first came before him. And that evolution is still at work today, much to Balanchine's credit."
What are some of the classes you will be taking at IBW and what can we expect from them?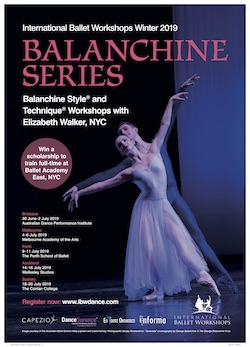 "I will be teaching both the intermediate and advanced levels a morning technique class and later classes focusing on pointe work and repertoire from Balanchine's choreography. My plan is to set either an excerpt of corps de ballet choreography or a solo variation on each group that will both intersect with the students' current technical level and also challenge them in specific aspects of Balanchine technique and style. Balanchine taught his dancers in class so that he could train them how he wanted them to dance. Therefore, the work in both technique class and repertoire class ought to go hand in hand, each helping the other."
What is your advice for getting the most out of the IBW workshops?
"My best advice is to come with a positive attitude! Please don't let fear or intimidation of something new (or someone new) hinder the ability to focus, listen, try, and try for more. Go for it!"
As part of the workshops, you will be selecting dancers to attend Ballet Academy East in New York. What kind of attributes will you be looking for?
"This is a very exciting part of my trip to teach for IBW. I will be looking for that aforementioned positive attitude along with qualities such as intelligence and work ethic, physical aptitude, and musicality. There are as many different types of dancers as there are people in the world, so I'm not looking for someone to fit a cookie cutter mould. Every dancer has their strengths and weaknesses. Ultimately, I'm looking for someone who is eager to learn and is teachable and receptive to the level of training we offer at Ballet Academy East."
What is the learning environment like at BAE?
"BAE has a wonderful environment that fosters excellence not only in ballet and performance, but also in the forming of kind, thoughtful, and respectful young people. The faculty at BAE has an amazing collective professional ballet experience. There is so much quality training available and the standards are high. But we also genuinely care for our students and their well-being. From the top down, BAE is nurturing and supportive."
Which of your career achievements to date are you most proud of?
"I'm very proud of my longevity of career at New York City Ballet. My rank never rose above the corps de ballet, but I was blessed to be able to dance with strength and quality  for  those many years. I enjoyed many opportunities to perform solo roles with NYCB, and on concert tours with colleagues, I was frequently trusted with some of the best Balanchine rep for a bravura dancer. Also, it was such a thrill to surprise my personal fans with the broad range of styles I could dance in ranging from Balanchine, to classical story ballets, modern in barefoot, jazzy, and even swing dancing!
As a teacher I am immensely proud of former students joining major companies such as Pennsylvania Ballet and Miami City Ballet and others. Still others went to college and are now holding significant jobs in business, finance, and governmental policy. It means so much to have the tremendous honour to impact someone's life through the daily endeavour of a ballet class."
What is your favourite Balanchine ballet and why is it special to you? 
"After many years two or three ballets became the ones by which others were measured in terms of satisfaction. For me, they were Balanchine's Serenade, Square Dance, and though I only performed it a few times, Concerto Barocco. These were ballets in which I danced in the corps, maybe in a featured position, but there was no lack of opportunity to lay it all out on the stage. To me, Balanchine's choreography marries the music and the movement so exquisitely that at the end of dancing his ballet you can simply say, that was as dancing should be."
How would you characterise Balanchine Style ® and Technique ® – what sets it apart in the ballet world?
"I recently heard a dancer in a radio interview (I missed who it was) say, and I'm paraphrasing, that Balanchine loosed the bonds of classical ballet almost 100 years ago in a way that enables dancers to move the way they do today. Balanchine, having been trained at the Mariinsky Theatre in St. Petersburg, utilised his immense knowledge of ballet, its history, and music, and revealed where there were more treasures to be mined out of it. His affinity for long lean lines, speed, dynamism, and fullness of movement necessitated methods to train dancers to dance that way. In the creation of his style and technique he didn't reinvent the wheel; he advanced the engineering. What is being produced in the dance world today would not be possible without Balanchine's contributions, in my opinion. And I believe that his works still hold immeasurable value today for the qualities they possess of beauty, order, and passion. No other dance language has paired so brilliantly with such a range of musical and cultural expression, nor  has been able to express such a range of human experience."
In today's competitive world, how can dancers stand out in auditions?
"Now this is a tricky question, in my opinion. I agree – today's dance world is highly competitive. It is a very different world than the one I came up in. There was no social media, You Tube, or video audition submission! There are a few things I'd make a point of. First of all, be very mindful of what you put "out there" on social media, whether it is Instagram, Facebook, etc. Companies and directors/choreographers can research more about you, and the way you relate to different people on social media can create either a positive or negative impression. Furthermore, dance is still a flesh and blood, three dimensional art! Don't neglect being able to relate to your audience (audition panel/director) as a real person. Instagram photos may look perfect aesthetically and video clips of many pirouettes can be impressive, but authenticity and facial expression must be a part of your dancing. Aim to bring your whole self – body, mind, emotions, even spirit -to your dancing. Technical standards and diversity of styles are very high today. Train your best to those expectations. Lastly, the most elusive components are timing and destiny. You can only be you at your age, height, proportions, opportunity, etc. I believe a certain degree of faith is helpful in accepting which doors open and which ones don't."
In your opinion, why is the work of IBW important, and what do students stand to gain from attending?
"I really admire and appreciate the vision of IBW to create opportunity for greater ballet eduction and exposure for students of Australia and New Zealand. I feel the format is so well suited to learning in an intensive way for a manageable amount of time. The fact that IBW focuses on providing a range of themes for the workshops twice a year gives the students a chance to broaden their awareness of what is possible in dance. Most of all, I applaud IBW's advocacy for young Australian and New Zealand students to have opportunity to study abroad. These students will have the chance to progress past the introductory workshop and really make these training qualities their own."
Register for the International Ballet Workshops Winter 2019 "Balanchine Series" at www.ibwdance.com before it sells out. Dance Informa is proud to sponsor IBW.
BRISBANE: JUNE 30-JULY 2, at Australian Dance Performance Institute
MELBOURNE: JULY 4-6, at Melbourne Academy of the Arts
PERTH: JULY 9-11, at The Perth School of Ballet
AUCKLAND: JULY 14-16, at Wellesley Studios
SYDNEY: JULY 18-20, at Conlan College