Transit Dance Space, Melbourne.
Thursday, January 28, 2016.
Prior to Boyz, it had been some time since I'd seen a work by Paul Malek. Sitting down to watch it at the Transit Dance Space, I was impressed at how far he has come, both choreographically and in terms of his wider achievements as a dance educator and facilitator.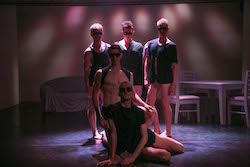 A work for five male dancers, Boyz was on the programme for Melbourne's Midsumma Festival, a celebration of queer culture and diversity.
Malek describes the work as a reflection of "the often frenzied existence of a young man's life… the constant self-exploration, experimental interaction and uncontrollable urges." It's certainly not one aimed at younger audience members, with strong depictions of sexuality and other more mature themes. Whilst not shying away from graphic visual descriptions and expressions of truth, these portrayals are executed artfully and, at times, with enough subtlety and humour to make them interesting and not merely shocking.
Danish producer Trentemøller's driving electronic score helps set the scene for five friends exploring a lifestyle of clubbing and experimentation. The work's opening sequence is perhaps its strongest, with intricate, weaving action that seems to bounce from one performer to the next like a pinball machine.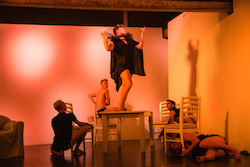 The cast – Charles Ball, Jayden Hicks, Kurt Dwyer-Williams, Lachlan Hall and Samuel Harnett-Welk – were all exquisite. Each are unique performers, powerful and fluid, with finely-tuned physicality and well-developed character work.
The performance space itself is something special. An interesting twist on the black box, the three white walls and ceiling open to the rafters of the old woollen mills gave the work added intimacy, urgency and urbanity. Unfortunately, as with most small spaces, any floor work in the downstage half of the stage was all but lost by everyone from the third row back.
Boyz is well-structured, captivating, challenging and polished. It was a joy to watch five young men give heart and soul in this new work for an exciting new company.
By Rain Francis of Dance Informa.
Photos by Chris Curran and Paul Malek.