By Maryann Wright.
The essence of Michael Jackson lives on in the dance-musical Thriller Live and now Australian audiences get the chance to see this West End hit as it embarks on a national tour this month.
Gary Lloyd, the man behind the moves, was the perfect match to tackle the daunting task of choreographing Thriller Live in homage to MJ. More than up to the task, his CV doesn't even fit on the size of an A3 sheet of paper. He has worked with the likes of Leona Lewis, Tom Jones, Robbie Williams, Pink, Kelly Clarkson and Atomic Kitten. He has choreographed for many West End musicals, including Hair, Fame, Aspects of Love and My Fair Lady. Plus, his TV credits only just start at X Factor, American Idol and Eurovision.  
Lloyd's choreography for Thriller Live has been a staple on London's West End for six years. In October, the show became the 20th longest-running musical in West End history!
When chatting with him recently, Gary Lloyd gave insight into the process of choreographing an iconic show dedicated to the King of Pop.
WIN TICKETS TO THRILLER LIVE IN MELBOURNE!
Dance Informa has 3 Double Passes to give away for the Opening Night of Thriller Live at State Theatre, Arts Centre Melbourne on Wednesday January 28. Just email info@danceinforma.com with your name, date of birth, phone number and postal address and tell us your favourite Michael Jackson song and why. Entries close January 10.
What was your first reaction when asked to choreograph Thriller, a story based on such an inspired performer?
"A huge sense of excitement, responsibility and calling. As a fan and someone who had followed MJ for so long, it felt right and was a very easy process for me to fulfill."
Did you ever meet Michael Jackson?
"No, but I have met most of the family who have come to show their support and thanks."
What is it about Michael Jackson that you have tried hardest to represent in Thriller? 
"That's a tough one, as we discovered very early on through studying closely that this man was extremely complex in his writing, his choreography and in his execution of a performance. The show is very much about representing the many sides of Michael Jackson and the fans often comment that we have done this really well."
What can audiences expect from Thriller's choreography? Is it true to the 80's and 90's dance style or is it modernised?
"The choreography is probably the broadest spectrum of styles that exists in any show as we span the early 70s through to the 90s. There is also a lot of current style choreography to reflect what Michael would have done on the This Is It Tour. The choreography reflects each era and every time Michael broke new ground – so you can expect everything!"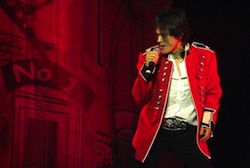 What has been the greatest challenge choreographing Thriller?
"There is a vast amount of choreography in Thriller that was a joy to put together, but it can be difficult keeping it tight when on the road due to the sheer vastness of the material. The dance captain's job is a tough one as it is a great challenge to maintain the precision that is required."
Greatest joy?
"Choreographing so much to this amazing music. Also, being involved in the show that is now picking up so many accolades and recognition. It is very humbling to represent something that is carrying on the legacy of such an icon. Thriller Live will always be an unforgettable experience."
You've choreographed for TV, film and concerts – what is special about the musical genre? How do you approach choreographing a musical differently from other mediums? 
"With a musical, you can create scenes within a song, which is exactly what Michael did. Being a movie director for a five-minute short film was his specialty and Thriller is made up of lots of onstage mini movies."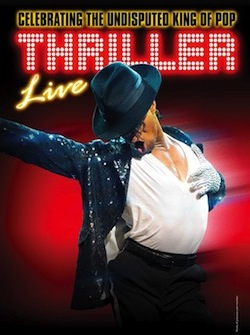 Favourite MJ dance move? 
"Wow! Oh okay… erm, I've never been asked that before! The moonwalk and the lean are big moments for the audience but I would have to say his shapes. The precision, power and detail that go into his shapes are beyond belief and no one has come close to matching them."
Most life-changing Michael Jackson music video? 
 "Thriller."
For more information on this show that features MJ's greatest hits like ABC, The Way You Make Me Feel, Beat It, Billie Jean, Dangerous and of course, Thriller, head to www.thrillerlive.com.au.
Thriller Live opens in Perth's Crown Theatre on December 10, Adelaide's Festival Theatre on December 30, Brisbane's QPAC Concert Hall on January 14, Arts Centre Melbourne on January 28 and the Sydney Lyric on February 26.
Images courtesy of AB Publicity and Thriller Live.