Drought and Rain opens at the Arts Centre Melbourne on Thursday 20 September
Following successful seasons at Sadler's Wells and Edinburgh Festival, French-Vietnamese choreographer, Ea Sola, brings her internationally revered work Drought and Rain (re-creation 2011) to Arts Centre Melbourne on Thursday 20 to Saturday 22 September.  Exploring traditional Vietnamese song and dance in a contemporary framework, Drought and Rain will see twelve elderly Vietnamese women present their experiences of the Vietnam War through compelling movement, music and gesture.
Commissioned by the Edinburgh Festival, Napoli Teatro Festival Italia and Sadler's Wells in London, this production is a recreation of Sola's 1995 work of the same name that comes exclusively to Melbourne after critically acclaimed tours through Europe and Asia.  This work features the women who sang to comfort the wounded soldiers on the frontline.  An ensemble of non-professional performers, they will perform alongside virtuoso Vietnamese musicians, including traditional percussion and string instruments.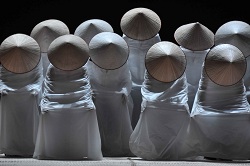 "These women did not fight, they had their voices alone as their weapon," says Sola of the women.  "After bringing them together, I discover this: instead of killing to survive, they sang."
Born in Vietnam, the now Paris-based Sola left her homeland in the wake of war with her French-born mother.  However, feeling displaced in a highly mechanised city, Sola returned to Vietnam in the early 1990s after receiving a grant from the French cultural ministry to research the lasting effects of war on the Vietnamese people.  The stories of her countrymen and women, as well as their traditional art forms with which they celebrated their experiences, were the inspiration behind Sola's iconic work Drought and Rain.
Drought and Rain is made possible through the generous support of the Kenneth Myer Asian Theatre Series Endowment Fund.  This endowment allows Arts Centre Melbourne to bring outstanding contemporary performances from across Asia to Australian shores, and help foster new ways of engaging with Asia through artistic collaboration.  Previous productions realised with assistance of the endowment include The Peony Pavilion by the National Ballet of China, Sayonara: Android-Human Theatre (Japan) and Fight the Landlord (China).
Drought and Rain
Arts Centre Melbourne, Playhouse
Thursday 20 – Saturday 22 September, 8pm
Q & A following performance on Friday 21 September
Tickets $39 – 55
For bookings and information visit artscentremelbourne.com.au or phone 1300 182 183.