By Rain Francis.
This month, Australia's preeminent dance companies will unite for a very special occasion. As part of The Australian Ballet's 50th anniversary celebrations, Arts Centre Melbourne will host Let's Dance, for 11 performances only. This is a unique opportunity for dance lovers to see the very best of the best, from every corner of the country.
"In our 50th year I wanted a program that recognised that dance is a thriving part of our cultural landscape. From stages to school halls, thousands of people are dancing across Australia every day," says Artistic Director of The Australian Ballet, David McAllister. "It was also a chance to bring the Australian dance family together to celebrate and to share the wonderful companies of our nation with lucky Melbourne audiences."
The headliner of this un-missable gala season is the premiere of Tim Harbour's Sweedeedee. Also presenting new works are Raewyn Hill and Natalie Weir, Artistic Directors of Dancenorth and Expressions Dance Company, respectively. Performing works never before seen on a Melbourne stage are Australian Dance Theatre, Queensland Ballet, West Australian Ballet and Sydney Dance Company. To top the evening off, Tasdance will present a short dance film.
To find out more about what is in store, I spoke to each of the companies involved in Let's Dance.
Company: The Australian Ballet
Title: Sweedeedee
Choreographer: Tim Harbour
Australian Ballet devotees are in for a rare treat with Tim Harbour's brand new ballet. Sweedeedee sees a return to the stage of beloved former principal artists, Justine Summers and Steven Heathcote. Himself a former Senior Artist with the company, Harbour has shared the stage with the pair, but this is the first time he has choreographed on them.
"Justine and Steven formed a partnership that was particularly cherished by audiences", Harbour explains. "They both have a deep resonance on stage that I want to tap into. While neither is at the height of their virtuosic powers any more, they are both still beautifully vivid movers."
The notion of the "Australian dance family" described by McAllister became the starting point for Sweedeedee. Playing the children of Summers and Heathcote will be two students from The Australian Ballet School – one of whom is Heathcote's actual daughter, Mia.
Harbour has aimed to create something that is fun for cast and audience alike, as well as being a vehicle for this particular, unconventional cast. "I knew I wanted to create something that two dancers in their forties and two mid-teen children could deliver," he says. "Steven, Justine and myself are all parents now and that has informed the piece too."
Sweedeedee will be performed primarily to a collection of folk songs, including numbers by Woodie Guthrie and Leonard Cohen, played by a live band. With sets and lighting by Benjamin Cisterne, costumes by Alexis George and projections by Lily Coates and Gavin Youngs, this promises to be a sensory delight fit for a 50th.
Company: Dancenorth
Title: Fugue
Choreographer: Raewyn Hill
Inspired by Spanish bullfighting, performed to Ravel's legendary Bolero and costumed by Sass & Bide, Fugue is sure to be quite a spectacle. Raewyn Hill describes it as "a relentless, trance like experience", with seven dancers moving as one and pushed to their absolute physical extremes.
Hill researched extensively for this new work, and notes that "the bullfight is often referred to as a metaphor for a fight between mankind and death." She has aligned this concept with the story of the 'Dancing Plague'. This mysterious event allegedly occurred in Strasbourg in 1518, when people spontaneously began to dance and continued for days, some even to their death.
"The dancers have really embraced the challenge, and they give phenomenal performances," says Hill. Be ready to be mesmerised by this exciting premiere!
Company: Expressions Dance Company
Title: Don't
Choreographer: Natalie Weir
Natalie Weir's brand new work Don't is developed from a piece called Scripsi Scriptum, which explores the art of communication and the written word. "I thought the duet was very powerful", says Weir, "and wanted to work further with the idea of a singular word and its emotional resonance."
As with all of Weir's work, which tends to explore "human emotion and connection", the ideas presented in Don't are ones to which we can all relate. As the choreographer notes, "sometimes we wish we could take back the things we say to each other. We forget the power that a word can have, its impact on others, and how easy it is to interpret or indeed, misinterpret.  The concept behind Don't is very simple, but beautiful and quite sad at times."
Company: Australian Dance Theatre
Title: Be Your Self (excerpt)
Choreographer: Garry Stewart
Be Your Self is a work that has been informed broadly and from vastly different viewpoints. Amongst their eclectic training and development schedule, ADT often engages in meditation practice. Initial sessions were led by a Buddhist monk, who discussed with the company the nature of 'self' according to Buddhist principles. Garry Stewart also consulted with a professor of physiology about the ways in which emotions are connected to the body and "how the hormonal system interacts with the brain neurologically and chemically when we experience certain emotions."
The resulting work is an "exploration of the human body as the starting point for defining the concept of self." ADT performed a snippet of Be Your Self at the Australian Dance Awards in 2009, and Melbourne audiences were, of course, blown away. Though we're yet to be treated to it in its entirety, I bet we're all looking forward to getting another glimpse of this incredible creation.
Company: Queensland Ballet
Title: Cloudland (excerpts)
Choreographer: François Klaus
A sell-out at the 2004 Brisbane Festival and loved by European audiences, Cloudland takes us back in time to the iconic Brisbane ballroom that was popular from the 1940s to the 1980s. "When I was creating the ballet we were overwhelmed by responses to our calls for information", says François Klaus. "People sent in delightful anecdotes, photographs and even CDs relating to their experiences at Cloudland. This story was very important to Brisbane life for a lot of people."
Melbourne audiences will be treated to two lyrical pas de deux: Almost Like Being in Love and No Moon at All. "It's a lovely production with beautiful sets, costumes, and music", says Klaus. "The themes of love and nostalgia have universal appeal – the story is local in one sense to Brisbane, but people anywhere can relate."
Company: West Australian Ballet
Title: Ombra Leggiera
Choreographer: Ivan Cavallari
Inspired by the lyrics from the aria Ombra Leggiera in Meyerbeer's Dinorah, the dance evokes a dialogue with a shadow. It was originally a solo created for Daryl Brandwood, who would interact with movements projected onto a screen. "It was to have been staged in this format at the Quarry Amphitheatre", says Ivan Cavallari, "however once we were there, it became obvious that the complex projections would be technically unachievable. Thus it became, overnight, a pas de deux!"
Ombra Leggiera is just one instalment in a trilogy of works set to arias sung by the illustrious Maria Callas. "For the moment I have choreographed the first two arias", says Cavallari, "but I'm still undecided about the third." So watch this space!
Company: Sydney Dance Company
Title: 2 One Another (excerpt)
Choreographer: Rafael Bonachela
Prior to a Melbourne season of 2 One Another in November this year, Sydney Dance Company brings a segment of its most recent work to Let's Dance.
2 One Another celebrates "relationships, interactions and the sheer beauty of the human form". Developed in collaboration with the young Australian poet Samuel Webster, it was enthusiastically received by Sydney audiences in March.
The Daily Telegraph's Vanessa Keys calls it "an awakening, a major turning point for Bonachela". Jill Sykes of the Sydney Morning Herald agrees, naming it the choreographer's "best since he became Artistic Director."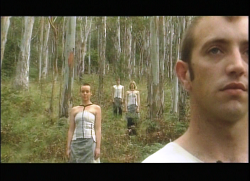 Company: Tasdance
Title: Momentary
Choreographer: Anna Smith
"Momentary is truly a short moment in time, a glimpse from what has been and an instant of what might be", says Anna Smith. The short film is a development of Quiescence, one of Smith's earlier works, which was born of the Conceiving Connections Research project in 2000.
An investigation of the poem Gum Trees Stripping by Judith Wright, Momentary identifies eucalyptus bark as a reflection of human experience. "[The bark is] a skin that reveals a history that often outlives our own", says Smith. "People have wrinkles, scars and marks on their skin because they have experienced the elements of life."
Bringing to life the rich, colourful imagery of Wright, Smith hopes that the film reminds viewers to see the beauty and wisdom in growing old, and to "appreciate and take notice of what surrounds us."
Let's Dance runs from June 7 to June 16 at Arts Centre Melbourne, State Theatre.
Book through www.australianballet.com.au or call 1300 369 741
Top photo: Principal dancers Rachael Walsh and Keian Langdon of Queensland Ballet perform the Cloudland pas de deux. Photo by Ken Sparrow.
Published by Dance Informa dance magazine -covering dance in Australia, dance training, dance auditions, dance teacher resources, dancewear and fashion and more.