The AUSTRALIAN TAP DANCE FESTIVAL is here!
From July 9th – 15th in Melbourne there will be a whole school holiday week of jampacked tap classes and events. The ATDF is the only one of its kind in Australasia where people travel from interstate and overseas to be part of this cutting edge festival.
The year's festival, sponsored by Capezio, will bring to Melbourne Australia's best tap dancers to run the 5-day residency workshops and masterclasses. The festival will also include special events such as a jam nights, film nights, Capezio Dance Off and of course the Main Show.
Grant Swift and Winston Morrison, visionaries and directors of tap festivals in Australia, have both traveled regularly to the USA to bring back insight from the masters of the artform – these will be spoken about in the public  lunchtime sessions.
The Australian Tap Dance Festival draws inspiration from recognised and well attended festivals in the USA. The introduction of 5 day tap residencies is modeled from the Chicago, New York and Los Angeles tap festivals. Participants will spend five consecutive days learning choreography with the tap teacher of their choice which will culminate in a performance at the Festival Show!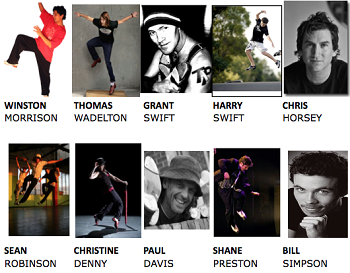 There is something for everyone at the tap festival, whether you are an absolute beginner, advanced tap dancer, teacher or someone who just enjoys being in front of live music and dance.  The festival will also be awarding certificates to participants, to help them be recognised for the highly specialized training that takes place at the festival.
Australian dancers are competitive, so to satisfy this hunger the festival is holding the Capezio DanceOff. All tap dance troupes or soloists are invited to apply to have a shot at prizes up to the value of $1000 from festival sponsor, Capezio.
To register for all festival classes and events or just to see which Australian tap icons (including an overseas guest) are involved on this year's faculty, check out the festival website www.australiantapdancefestival.com.au
Published by Dance Informa dance magazine -covering dance in Australia, dance training, dance auditions, dance teacher resources and more.