World renowned solo performance specialist Ros Warby returns home to Australia as a war hero and a black swan.
By Paul Ransom.
To say that Australian choreographer Ros Warby is a solitary figure might be stretching it; but her penchant for solo performance pieces precedes her.
By reviving her Swan Lake inspired show Monumental for this year's Spring Dance season in Sydney, Warby takes us deep inside her unique milieu. Beginning with the classical ballet motifs of the swan and the soldier, Warby morphs them into visceral, intense ciphers, each acting out their own hard wired dreams in the one body.
"I'm trying to work with multiple layers of character or notion simultaneously throughout the performance," she explains. "As the creation of the work evolves I identify the primary themes, ideas and characters. During the performance I am continually slipping between the layers of these thematic elements."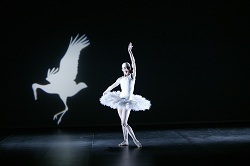 What this creates is a fundamentally feeling centred, even instinct driven dance form. As Warby observes, "The potential for multiple layers of experience to exist simultaneously in the dancer and the dance is extraordinary, if the performer allows all experience to be there at once."  
Naturally, Ros Warby has been working towards this point for some years. Over a two decade career she has danced with luminaries like Lucy Guerin, Deborah Hay and Russell Dumas and established herself internationally as a leading exponent of the solo show. Even though Monumental does include a Ben Speth film and a Helen Mountford cello score, it is very much about Warby's self-encapsulated manifestations.
"I've always been attracted to solo work," she confesses. "I love the aesthetic of it; the simplicity, beauty and poignancy of the single figure on stage. When I perform solo I relish the chance to take the time and space needed to play out each and every moment."
However, there's a subtle spring load here. Whereas Warby's website declares that by 'eliminating attachments to prescribed techniques or choreographic approaches she invites the body to undo any pre-conceived notions of what dance is' she is no mere iconoclast.  "I am not searching for anything," she says boldly. "As I dance I'm simply noticing where I am in relation to my dancing body, space, time, audience, the choreography and other elements in the space. I am not interested in searching for something new in dance."
At the performance level things are a bit more pragmatic. "I use everything I have in my system as I perform, all my training and history, my experience; but I try not to attach to any one idea of what I think those techniques are or what those experiences are. I am trying to get out of the way of my idea of all this and let the whole body work in relation to the choreography and thematic direction of the work."
For Monumental this means letting loose on the fairy tale figures of the classical ballet in which she was schooled. Yet here again, Warby has no intention of turning her back on the history of her craft. "Yes, they are relevant," she states emphatically. "How they are worked with is the key; as long as the dancer and choreographer stay curious and attentive to the dancing body moment to moment."
The continuing presence of the classical repertoire, whether reconfigured as contemporary or remounted as lush costume pieces comes as no surprise to Warby. With honed precision she drives her point home. "How dance is transmitted to the dancer to keep them curious, on their toes, whether it be ballet, hip hop, the most minimal modern dance or indigenous dance, that's the key," she says. "How that dance is transmitted from choreographer to dancer and how the dancer transcends their idea of what it should be is what will keep any dance interesting."
But of course it still has to be danced and for Ros Warby that means both inspiration and preparation. There is little space to hide in a one woman show. "The intelligence of the dancing body surprises and thrills me every day," she waxes. "My curiosity about where that intelligence will take me is very present [but] as I get older, with family and a full life, the biggest challenge is how to find the time, space and energy to keep going."
Luckily for Sydneysiders one of this country's very best dance exports has found her way onto the Spring Dance programme. It promises to be, well … monumental.
SPRING DANCE
Sydney Opera House
August 23 – Sept 4