Malthouse Theatre, Melbourne
Oct 20th -24th

By Paul Ransom.
For much of its hour Black Marrow is more like avant garde physical theatre than straightforward contemporary dance. Choreographers Erna Omarsdottir and Damien Jalet have burst through the boundaries by bringing spoken word, grotesque carny and smatterings of Brecht into the mix. The upshot is a fluttering, disturbing, concept driven piece that skirts a line between the didactic and the visceral.
Its apocalyptic themes are apparent from the outset as shapes heave and writhe beneath a layer of ooze and Ben Frost's dark rumbling electronic soundscape clicks and burbles with ominous intent.
What follows is a sometimes too obvious journey through notions of civilisation at the edge. At times Black Marrow veers into undergrad hectoring but always manages to resurrect itself with startling vision and daring. The six performers are used not only as dancers but as percussive instruments; as actors in a highly expressionist drama.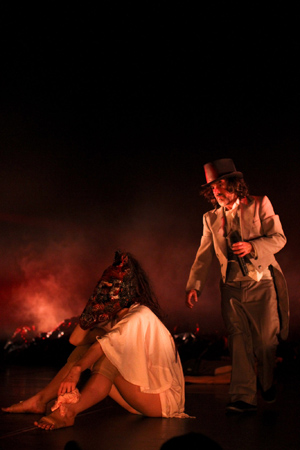 For all its European intellectualism, though, raw emotion is never too far away. A sequence that begins with the cast convulsing on the floor in time to the pulse of a heart rate monitor morphs into an incredibly powerful and hypnotic catharsis. The simplicity here is majestic and encapsulates all that is thrilling about contemporary dance.
The melancholy fluidity of that 'scene' is contrasted superbly by sequences of brilliantly conceived industrial movement, the six dancers functioning as a blind machine.
Black Marrow culminates with a gloriously oily question mark as the dancers pollute themselves with the remnant sludge of modernity. Here we see the nub of the concept; humanity losing control of its genius, making the earth bleed, finding itself dishevelled and covered in ebony excreta.
Omarsdottir and Jalet certainly wear their 'conceptual' badge proudly. Black Marrow is steeped in the aesthetic of European abstraction; blending eco-politics, mythology and circus ring comedy. If you walk away thinking Werner Herzog, Wim Wenders and Lars von Trier you might not be too far wide of the mark.
With almost flawless performances and its original soundtrack of seismic cinematic electronica, Chunky Move's Black Marrow is a sometimes frightening, sometimes beautiful world of humanity in a spin. If ever anyone doubted Chunky's ability to astonish and confound then this work should convince them.
www.chunkymove.com
Photos: Proud Mother Pictures.