The Space Dance and Arts Centre have launched Full Time Dance!
Full Time Dance @ The Space is more than just a dance course.
A limited number of talented students will be trained to World Class Standard by our amazing faculty. The course is headed by our Artistic Director the incredible Danial Brown who has: danced with Alvin Ailey, Marla Bingham and Zena Bethune; appeared with Michael Jackson, Frank Sinatra, Elizabeth Taylor; studied choreography with Kenny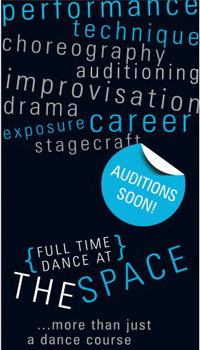 Ortega and Debbie Allen; been a Dance Captain on Broadway and much, much more.
To ensure that the training is world class, along with our brilliant local staff, we will be bringing international artists to Melbourne to teach week long intensive workshops. Confirmed international artists include Shannon Beech, Robert Hallak, Adam Parson, Tovaris Wilson and Michelle Zeitlin!
This course will create connections and networks within the commercial dance scene here and abroad. You will choreograph, devise and produce your own dance performances and learn the skills you need to thrive as a dancer, performer and artist. This could be your start to a long and fulfilling career.
AUDITIONS!
Auditions early November 2009
D etails at http://www.thespace.com.au/fulltime
Contact: (03)9529 3949 info@thespace.com.au